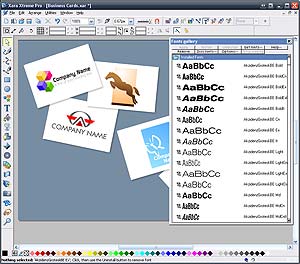 In part one of our review we started to look at what Xara Xtreme has to offer. Read on to find out what we thought of the package as a whole.
As a DTP editor, Xara still has a way to go before it can compete with the big names, but it costs only a fraction of the price of Quark and Indesign and, as a cut price alternative, there's certainly enough typographic and layout control on tap for many designer's needs.
A nifty new 'liquid text' feature lets you move objects around a page and see the text instantly 'repel' around its new position, and we loved the way that highlighted text would instantly change as your mouse ran down the drop-down font display list.
Xara Xtreme's updated web-editing tools lets you convert multi-page documents into HTML/CSS web pages with links, rollovers and graphic text headlines, and although the resulting pages did a reasonable job of reproducing what was onscreen, the code is fairly unwieldy and unlikely to impress picky clients (or accessibility tests).
Mind you, we've seen a lot worse elsewhere and it's easily good enough for knocking out small, high-graphic sites, or quick prototype pages for impatient customers.
Conclusion
So with its compelling mix of super fast performance, simple interface, real time photo edits, interactive rendering effects and vast reservoir of powerful tools under the hood, it seems bizarre that Xara Xtreme 4.0 is still relatively unknown among designers.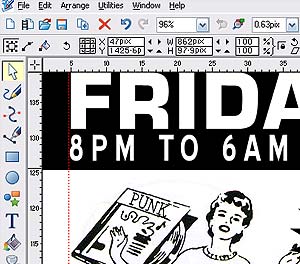 Part of the problem is that most people have simply never heard of the program. We've seen enough baffled faces when we've introduced it to students and clients, yet very few have failed to be blown away by its speed or simplicity once they've seen it in action.
With such a low profile – and with relatively few mainstream sources enthusing about the product – it seems that Xara has its work cut out when trying to compete with the industry standard names like Adobe, even if their product outperforms pricier competitors in key areas.
Perhaps the program's simplicity – and, in turn, its rather understated, eye-candy-free interface – is conspiring to make people think that it's not as good as it really is, and that's a real shame, because we think that Xara Xtreme is a hugely capable program offering extraordinary value for money. For example, some of the dialogue boxes, gallery interfaces and error messages look terribly dated now and it's pretty much inexcusable that the preview box from the 'file open' menu remains pointlessly small.
Although Xara purists may disagree, perhaps it's time for the company to revamp the interface into something slick and modern enough to sit aside class leading apps like Adobe Photoshop Elements. After all, if that's what it takes to open people's eyes to the wonders of this fast, fantastic and hugely flexible graphics and illustration package, that can only be a good thing.
Our verdict
Ease Of Use: 85%
Features: 86%
Interface: 80%
Speed: 95%
Value For Money: 89%
Overall: 88%
Highly recommended
Archive review: Xara Xtreme Review (93%), Feb 2006.