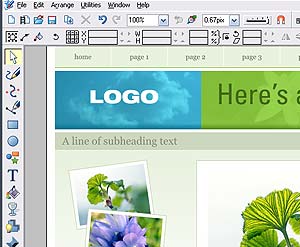 Proudly billing itself as the 'world's fastest graphic program,' Xara continues to serve up an enticing mix of unbeatable speed and real graphics power at a bargain basement price.
We've been using the vector and bitmap illustration package program since it first appeared back in 1994 as Xara Studio, and instantly appreciated its super-speedy processing and no-nonsense, simple interface, backed by comprehensive help files and handy movies to get users started.
Now regaling under the snappy moniker of Xara Xtreme 4.0 and available in both Standard (£52) and Pro (£143) versions, the program continues to add new features while retaining a familiar interface.
The new non-destructive photo editing tools in v4 let you tweak a selected bitmap's brightness, contrast, saturation and sharpness, with the adjustment immediately seen in real time onscreen, with live histogram feedback.
There's also support for Photoshop plug-ins. You can also rotate, resize, enhance and crop images and there's an incredibly nippy bitmap tracer onboard, as well as a new tool for automatically stitching up to six photographs into a single panorama and a red-eye removal app.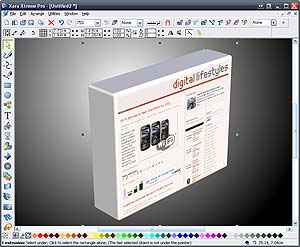 Also new in version 4 is a powerful Extrude tool which lets you add 3D edges to objects, bitmaps and type, and preview changes in depth, bevel shape and lighting in real time.
You can even drag items around their 3D axis onscreen and see everything update instantly. It's really quite extraordinarily fast and easy to use (we created the example illustrated on this page in about 20 seconds).
Read more and our conclusion in the second part of this review.