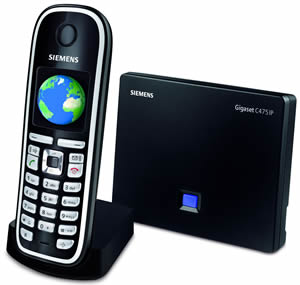 The small box that the system comes in is deceiving. It contains a DECT phone and basestation, but when you examine the basestation alongside the expected phone connector, there's a an Ethernet connector too.
The basestation is both a normal telephone answering machine and a VoIP capable device which can be used with up to 6 VoIP accounts/services.
The handset supplied can be used to configure the basic settings in the basestation, though it's easier to use a Web browser and configure everything through its Web interface.
To make it easier, there's some clever auto set-up built-in, with presets for various VoIP providers. Just select the country you're in and a list of country specific providers is shown. Neat.
Though the provided handset has features specific to the basestation, any GAP compliant DECT handset may be paired and it was easy to add a BT Freestyle 2200 – which then was able to make and receive calls.
VoIP and PSTN
Whether to use the landline or VoIP by default is set in the configuration but this can be changed on a call by call basis.
If multiple handsets are registered, then 3 phone calls can be made simultaneously, one using the PSTN and the other 2 over VoIP.
Handsets can also be assigned specific VoIP numbers (i.e. VoIP accounts) so that those accounts are only available to those specific handsets, it also means that only the associated handset(s) will ring when a call comes in from that VoIP account.
PSTN calls are always associated with all handsets ensuring access to emergency calls can be dialled.
The system worked well with the open-source VoIP software, Asterisk and we had no problems making or receiving VoIP calls though it.
It should be noted that the C475IP uses standard VoIP protocols (SIP) not propriety systems like Skype – meaning it should work will all standards complaint software, systems and services.
Answerphone – with SMS alerts
The answerphone system is quite complex and can be set to just make announcement or announce and record. As expected, users can record their own messages.
The answerphone can also be accessed remotely as long as the system PIN has been changed from the default. Just dial you 'normal' phone number, hit the hash key and you'll be prompted for the PIN.
The C475IP can send and receive SMS messages. This SMS feature can be extended so when an answerphone message is stored, an SMS number (presumably the user's mobile) is sent and the text message will contain details of the number of the caller and length of message.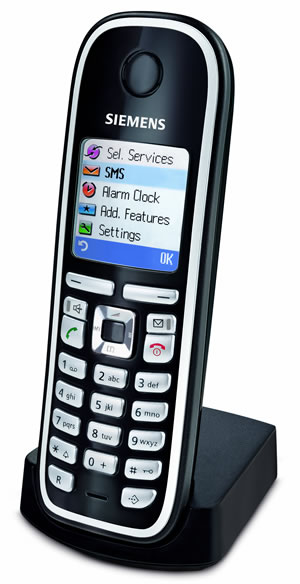 Gigaset.net
The supplied handset has some extra features that work with gigaset.net, the service provided by Siemens. The phone can automatically set-up the gigaset account (with some basic info provided by the user) and once registered, the phone can then make free VoIP calls to other Gigaset users.
Lots of other features can be activated through Gigaset.net such as weather reports, biorhythm, blog feeds etc. These are then pulled by the phone while it's in standby mode using the default "world" screensaver.
Conclusion
The Siemens C475IP is an extremely competent DECT phone, with the added VoIP capabilities it makes it a useful addition to any home or office that has a sensible broadband connection and needs multi-line capabilities.
It all just works out the box and both the VoIP and PSTN capabilities work well together.
With the ability to get "free" VoIP dial-in lines from several providers, it would also be possible to allocate phones to individual users, potentially useful both in the home and office.
The only thing letting the phone down is it's not the prettiest DECT handset out there.
Scores :77%
The basestation with a single handset can be bought for around £75, while a dual handset version goes for about £115.
Thanks to ProVu Communications of Huddersfield who provided the handset for review.