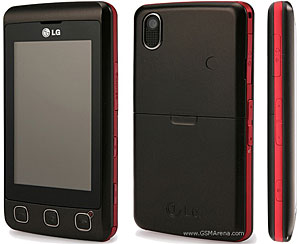 Another day, another accelerometer-packing handset. This time it's the LG's new KP500 – codenamed the LG Cookie – and this rather attractive slimline (11.9mm thick) handset packs a 3″ touchscreen display and a fair serving of functionality into its compact frame.
Sporting a strong resemblance to its more upmarket cousin, the LG Renoir, the Cookie offers quad-band GSM, GRPS/EDGE, with a 3MP camera, Bluetooth 2.1 and an FM radio onboard.
The built-in accelerometer can be used for games and offers auto screen rotation for images, video and documents. There's no keyboard, slide out or otherwise, so all text input goes through the landscape onscreen QWERTY keypad. There's also a stylus tucked way for those awkward UI moments.
Running the latest version of LG's touchscreen Flash-based UI, the Cookie lets itself down in the video department: the handset is only capable of recording video at a juddersome 12 fps and at a fairly feeble QVGA resolution.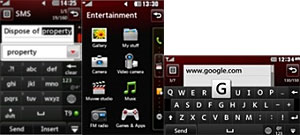 Support for DivX or XviD is also absent with MPEG4 video playback mustering 24 fps on the 240×400 screen.
The multimedia offerings may be a little on the lean side, but the price isn't bad at all, with the LG Cookie expected to be priced at a pocket pleasing estimated price of just €170 ($228 US) – and that's before any network subsidies.