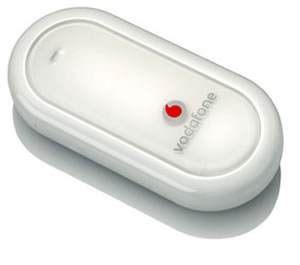 We're big fans of the Vodafone Mobile Broadband service. It's served us well in many situations, giving a glance of what a a truly connected future will be like. We've used it for years to provide live coverage of product launches, as well as politically important local politics events, like the Isle of Wight council threatening to close half of the Island's Primary schools.
Given our fan-like nature, it was really encouraging to hear that Vodafone will be expanding their mobile 7.2Mbps broadband coverage beyond London and major airports to six further UK cities: Birmingham, Bristol. Glasgow, Liverpool, Manchester and Reading.
Mobile broadband is proving popular in the UK, with mobile provider Three recently telling of a seven fold increase in mobile data.
More info for customers
From June Vodafone will be changing the way it sells the mobile data service, with PoS material showing how long different types of content — download files, films and music — will take to download and how much data they'll use.
Beyond showing how much quicker 7.2Mbps is over 'standard' mobile data, we thing this is also some insurance against the cases where people are gathering HUGE data bills, like the case back in January where a mobile bill of over £27,000 was built up in four weeks.