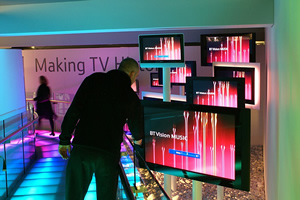 For the UK, the launch of BT's Vision IPTV service is a major shift. The incumbent telco entering the TV world isn't an everyday event. We're here for you covering the event live to keep you informed.
10:20 – Good number of people here with journos and financial analysts milling around.
BT has spent a serious amount of money on this one, converting the lower floor of their Newgate city office to be all BT Vision.
Presentation theatre opens at 10:30
10:35 – starting
Lights have dropped
10:36 – intro video – B&W.
Old video – Bill and Ben
Lots of BBC clips
video from world events
"The next chapter is about to dawn in histyr" – "We're passing you control" (their new catch phrase
10:37 – Ian Livingston (CEO BT Retail) on his feet now
Makes a joke about a windy weekend – leaves falling from the tree – Joke about BT Vision being due to launch in Autumn
"Broadband has come together with TV" "No longins is it in the hands of the TV Schedulers"
Choice – convience – control
"we allow you to watch what you want to watch"
"we allow you to do it when you want to do it"
"it's available immediately"
"You pay how you want"
It's called the V-Box
Has PVR – 80 hours of programming
over 40 free view channels (we knew all of this)
Rich interactive services
Make calls through it
New content partners – SENTANTA Sports (75% of all premier league games); Warner Bros; Vodafone (! – launching a similar service next year)
Steve Balmer on video
Balmer: Blah, blah, brave BT, BT is one of the first comapnies in the world to have a service like this". Steve ends. Microsoft was software provider.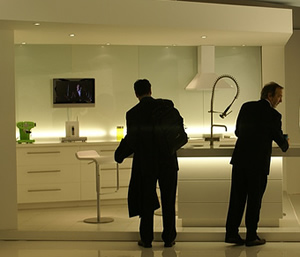 10.47 Gavin Patterson
GP is covering the TV landscape. Freeview, Sky, cable, etc
GP: trying to find a new way between the currently available platforms
5,000 hours of on demand by the end of next year
This is a new figure
"control – people want to control their out goings" Pay per view, subscribe to a basket of content
What's the reach – BT has 3m broadband customers. 90% of customers can get it. Only need a 2Mb line (as we covered in the Dan Marks interview)
BT Plan for it to be profitable in 3-4 years
Another video running – showing what's possible
Lots of very well known content – from recent years and many years gone by
TV shows and films from over the years
10:53 Dan Marks stands up. From the start of next year SETANTA Sports lods of football and other sports (golf, etc) – it will be live. total 288 premiership hams. 75% of all of the games played.
Other sport to follow later.
10:54 – Warner Brothers – lots of TV Nip and tuck; west wing; OC. Lots of films too.
What you need – BT connection; BT Home Hub; V-box (BT Vision box)
HD ready. Can be upgraded through remote software updates.
10:57 – EPG demo – very grey interface (in a good way). PVR function similar simplicity to
Channel 4 programmes from last 7 days available form launch (No mention of the BBC content)
Subscriptions – replay TV, TV, Kids, Music. can sub for a month, or as long as you like.
Only platform to provide Channel 4 – film 4 on demnds. Pricing that's on the screen – £2.99 for current films – cheaper than Blockbuster. It's yours for 24 hours.
TV – 49p Pay per view. or £6 month for as much as you like.
Music video – partnered with Emap.
11:01 – pricing – PPV 29p for a single music track. replay TV £3. take everything – £14.
It will be rolled out "very deliberately" Starting next week. Initially all installs with be done by an engineer. Giving customers the box free(!). Engineer install £60.
Next year, available to those not pre-registered.
Will be connecting 10ks of customers from next months. 100ks following year, the 3-4m on going.
Will be expanding "Special interest" programming. Adding a number of interactive features.
Also video telephony (as TV is being watched) ** This is interesting **
targeted ads and gambling to follow too.
"We believe we're doing something important here"
11:05 – Q&A starts
Q: Will you be covering HD? They can have the content delivered down the line. The v-box is future proof.
A: Why did you choose Microsoft platform?
A: It's a worldwide platform. PC connectivity is also important.
Q: Will you be able to stream video to other rooms wirelessly?
A: Lots of options in the future.
Q: Who will you be competing with (what are you assumptions)?
A: We need to provide a better network (standard Internet connections won't work). BT feels that the competitors will need to swap out their STB to offer the same service.
Q: Will you consider bidding for content in the future?
A: We have already with Sky. Rest of the question not made. "We haven't had to buy a production service to do it! (laughs)"
Q: Why deal with Vodafone?
A: They're close partners. We'll consider wholesaling it with other partners in the future. Vodafone will retail the BT Vision – it's not wholesale.
Q: Why use an ariel, not have full IPTV?
A: We using different deliveries where it fits best. Freeview – "Free is hard to beat"
Q: When will you get BBC and ITV onboard for TV reply?
A: BBC has to go through a regulatory basis. Content will be after DVD-release-window.
Q: What are you customer acquisition costs?
A: BT will invest £100m in the next year. Won't give an exact cost for the box to them – there for any loss that they might bear for selling the box at £200.
Q: Any first run TV content?
A: Not at launch. More deals soon.
11:19 – Event finishes.
The Live coverage of this event was made possible by us using Vodafone's USB 3G Modem.