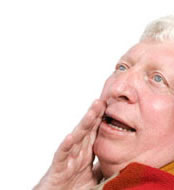 It's good to see people aren't forgetting charity at this time of year. In the UK BT are doing their bit by offering a track for sale, whose proceeds will go to the homeless charity, Shelter.They've got two offerings.
The first, Text Aid, as BT are labelling it, uses the dulcet tones of actor Tom Baker (he of Dr Who fame) to read text messages that are sent from mobiles to land-lines. The service will run from today (1.Dec) until 8 January 2007.
BT will donate 2p for each text sent – they say this is the money they make after costs have been removed.
Given behaviour in previous years, Xmas and New Year are the busiest time of the year for people texting festive ditties to each other.
We await the many quotes from Dr Who fans, probably featuring references to K9 and Sarah Jane, to be delivered to our landline.
The other offering also uses the velvety voice of Tom Baker, but this time as part of an updated version of the Kinks track, "You've really got me." Tom speaks the words while a disco'd version of the track bumps along in the background.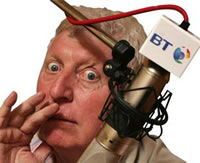 It might not be our normal listening habits, but it's for charridy for goodness sakes. The track was made by Mark Murphy, 34, a self-employed IT consultant and Dr Who fanatic.
With his typical humour Tom Baker said: "I'm delighted to have been asked back by BT as the voice of text-to-landline. It's rather like being Santa Claus, delivering all your festive greetings – I only wish I could hear what I'm saying!
It can be pre-ordered from today on 7Digital and will generally be avilable on services like eMusic and iTunes from 18 December. Cost? A mere 79p.
This time all money will go to Shelter. They're hoping to raise £100,000 from the whole jolly affair.
As you'd expect Shelter are planning to use the money raised wisely as Adam Sampson, chief executive of Shelter explained, "The £100,000 donation will allow us to fund an awareness-raising campaign in primary and secondary schools during 2007 as well as supporting frontline services to help vulnerable children and young people cope with housing problems."
Do some good over xmas and pop over to Text Aid or place your order for the track at the Indie store.