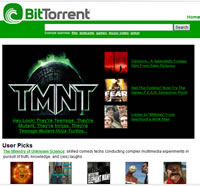 The one-time force for evil (in the eyes of the film industry), Bit Torrent has had a good couple of days, first they sign a distribution deal with some of the major film and TV companies, then today they announce that they've closed another funding round.
Content deal
The content deals add to those they signed back in May this year and will provide films with a Download-to-Own (DTO) basis or for rent on a Video-on-Demand (VOD) basis.
Pricing for them hasn't been announced, as they plan to disclose pricing details closer to the time of the launch of their online retail marketplace, which is set for February 2007.
It's not just the old junk that the studios don't care about anymore that will be available. The majority of the deals include new film releases day-and-date with the DVD release, popular TV series, deep catalogue titles and cult classics.
The exception is Palm Pictures, as they plan to be the first studio to utilize the BitTorrent platform to release full-length feature films before the theatrical and DVD release dates.
The most recent partnerships are with 20th Century Fox, G4, Kadokawa Pictures USA, Lionsgate, MTV Networks, Palm Pictures, Paramount Pictures and Starz Media, which build on the previous deals with Warner Bros. Home Entertainment, Egami Media, Hart Sharp, Koch Entertainment and The Orchard.

What about the money!
Today the series B funding has been announced (although TechCrunch scooped it a couple of days ago). They've raised $20m from new investor Accel Partners leading the round, with participation from initial investor DCM.
Given Bram Cohen wrote the majority of the code for BitTorrent himself, what, you may ask do they need the money for?
Almost to prove how corporate they've become, BitTorrent (BT) use the cut and paste phrase that it will "support the company's growth, building on its leadership in high-performance content distribution on the Internet." So more jobs for people will large salaries it sounds like.
What is more interesting is the longer terms plans for BT. They intend taking the technology, using it to "power other websites with the performance and efficiency of BitTorrent's content delivery service." It's words like these that will get companies in the content delivery game worried.
Not just to the PC
BitTorrent signed a deal with a number of consumer electronics companies back in the end of October. ASUS, Planex and QNAP are among the first CE manufacturers to implement the BitTorrent download manager into digital home devices. ASUS and Palnex will build it into a number of their routers, QNAP into their NAS Servers.
This alone is a major change for the once-feared BitTorrent – it takes them away from the computer and closer to the TV in the lounge, while eliminating the need for the user to get involved with setting up and running it.