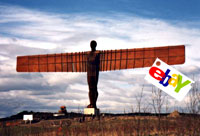 It's being predicted that today will be the biggest Internet-based shopping day of the year in the UK. The Interactive Media in Retail Group (IMRG) research points to a massive £180m being spent just on this day, more than double the £82 million average for 2006.
They see most of the e-shopping (as it used to be so sweetly called) being done in peoples lunch hours, between 1-2, when £14 million will be chucked over the line towards various online shops. This far out weighs the average of £4 million-per-hour being spent online in the 10-weeks run up to Christmas.
It's not just those chomping the lunch sarnies that are clicking-until-they-drop, eDigitalResearch.com's director, Chris Russell, chimes in with, "The evening Internet shopping peak is a recent phenomenon that has become possible with consumers' acquisition of broadband at home. The evening peak – between 7 and 9pm – is now 80% as high as lunchtimes, when the highest sales are still recorded, between 1 and 2pm."
Figures like this point to 38% of the sales taking place outside of traditional shopping hours, either before 9am or after 6pm. IMRG are really keen for you to notice this – differentiating them from 'normal' stores.
It's not just today that is rather large in the sales department – the shopping joy/nightmare will be spread over the whole week. They estimate online sales worth £1.145 billion (!) will be made in the week 4-10 Dec, with the whole of December ringing up £3.55 billion.