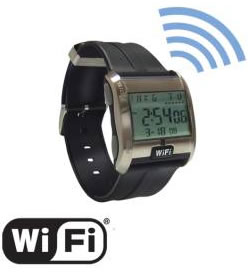 OK, we were all very excited about the idea of a WiFi detectors when we first saw the pocket-sized version and a couple of the subsequent ones. Finally it would be possible to work out where to connect, without first having to get your laptop out to … work out where there was some wireless.
Then the joy went out of it as tons of the things arrived, with the occassional exception … or two.
Here's another interesting one, a WiFi-detecting watch … that'll be a watch … that's a WiFi detector as well.
A pretty nifty one if you're going secret squirrel.
What do you get for your £20?
Watch Features: Chronograph. Countdown. Alarm. Hourly Chime. Dual Time. Lap Memory.
Wifi Detection
Detects interference intensity of 2.4ghz signal
Detects AP stations over 100 metres outdoors
If you fancy one, it's looks like you'll have to bide your time while they get them back in stock.