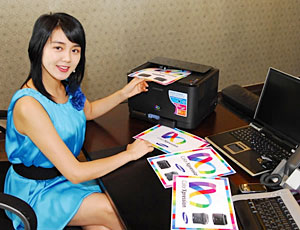 It doesn't seem that long ago that our office used to rattle to the deafening sound of a chunky monochrome dot matrix printer producing its highly variable printouts, but if proof were needed of the onward march of technology, check out Samsung's new bijou colour laser printers.


Claimed to be "the world's smallest," Samsung Korea's new CLP-315K laser printer and CLX-3175FNK scanner/printer combo come with the usual brace of adoring models feeling nothing but pure unadulterated love for the glamour-free products.
Resplendent in its high-gloss black case, the CLP-315K is 20% smaller than its CLP-300 predecessors and packs Samsung's exclusive NO-NOIS print engine that does its stuff at a quiet 45dB and produces prints at a resolution of 2,400 x 600 dpi.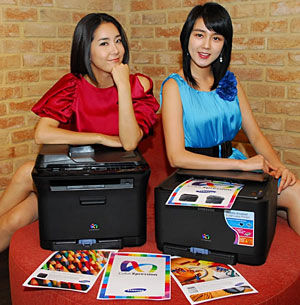 Armed with 32MB of internal memory, the CLP-315K can bang out 16 pages of joyous company reports per minute (in black or white) or step up to conjure up 4 fun packed pages per minutes in colour.
Samsung has also released the CLX-3175FNK, an all-in-one laser colour printer with a built-in scanner and a fax which has been shrunk down by 40% compared to the last lot it produced, CLX-3160 series.
The clever-clogs, do-it-all gizmo can scan document to USB memory sticks and also print files stored on USB sticks, camera phones and digital cameras, all without the need to consult a PC or laptop