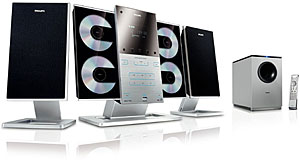 If you're the kind of person that is happy to sacrifice a bit of sound quality in exchange for some serious pose value, then Philips' new MCD299 micro home theatre could be just the ticket for your a la mode living room.


Looking sleeker than a headful of Brylcreem on Marlon Brando's bounce, the MCD299 cuts a stylish dash with its black and silver brushed steel finish and Moto Razr-like illuminated flat buttons.
Sporting a four-disc changer to give users maximum uninterrupted lolling on the sofa time, the MCD299 comes with a natty motorised sliding front door and can play back a ton of audio/video formats including DVD, DVD+R/+RW, DVD-R/-RW, Picture CD and Video CD/SVCD, DVD-Video with support for JPEG slideshows and MP3 tunes.
To keep the video output sharper than a fresh lemon cocktail up the nostril, the Philips Micro wotsit comes with a Progressive Scan application and a 12-bit Digital to Analogue converter.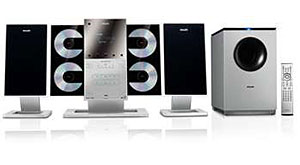 There's also a Digital Sound Control offering pre-set Jazz, Rock, Pop and Classic presets with the pretty but perilously fay-looking speakers given a boost in the bass department with a Dynamic Bass Boost control feeding the supplied subwoofer.
The unit can be mounted on the wall or stuck on the silver angled stands, and there's a USB port for slapping in digital downloads and photos.
There's no UK price or release date announced yet, but the quoted price of 529 Singapore dollars works out at around £200 which seems fantastic value for such a good looking and versatile combo.
Specs
Sound Enhancement Digital Sound Control 4 modes, Dynamic Bass Boost, Class "D" Digital Amplifier
Output power (RMS) 2x30W + 80W, Total output power 140W RMS
Sound System Dolby Digital, DTS Digital Out
Loudspeakers
Main Speaker Bass Reflex Speaker System, 4″ woofer
Subwoofer type Active
Subwoofer driver 8″ woofer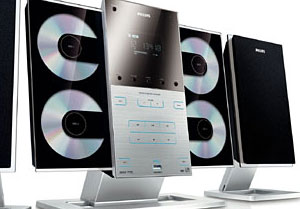 Video Playback
Disc Playback Modes A-B Repeat, Angle, Disc Menu, Fast Backward, Fast Forward, OSD, PBC, Repeat, Resume Playback from Stop, Slow Backward, Parental control, Slow Forward, Zoom
DVD Region 3
Playback Media DVD, DVD+R/+RW, DVD-R/-RW, Picture CD, Video CD/SVCD, DVD-Video
Video Enhancement Progressive Scan
Still Picture Playback
Picture compression format JPEG
Picture enhancement Slideshow with MP3 playback
Playback Media Picture CD