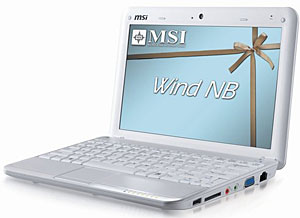 MSI have just released a set of publicity shots for their soon-come budget- ultraportable laptop, labelled the MSI Wind.
We have to say it looks purdy as a picture too, with a smart all-white finish, rounded edges, sleek lines and none of those ugly gaps either side of the screen (like the first-gen Eee).


The Wind will be available in two screen sizes; 8.9 inch or 10-inch, both running at 1,024 x 600 pixels resolution with LED backlighting.
Inside there's an 80GB hard-drive purring along on the never-say-die Windows XP operating system, with air vents all over the shop to keep the thing chilled an' ting. The keyboard fills just about the entire width of the laptop, and there's a regular sized touchpad with what we assume to be hinged mouse button underneath.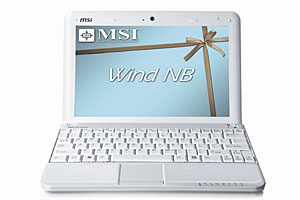 The laptop will be powered by Intel's eagerly awaited new Atom mobile processor, running at 1.6GHz, backed by 1GB of RAM onboard.
For connectivity, there's Bluetooth and Wi-Fi, as well as a useful 3x USB 2.0 ports, mic in, line in/out, VGA and a SD card slot
There's also 1.3-megapixel webcam inlaid on the top of the screen bezel for web cam chats and self portraits of The Artiste At Work. John Travolta fans might also enjoy the wide range of lights flanking the bottom right hand edge of the Wind, giving a mini-disco lighting experience.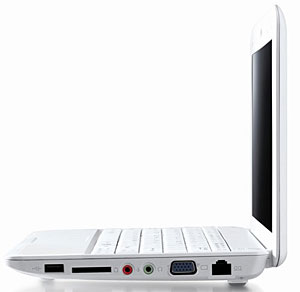 The whole thing weighs a mere 1.2kg, with battery life a little open for debate at the moment: MSI claimed seven hours, but reviewers said they only managed 2.5hrs, so we can only guess that there's extended battery option out there. Or MSI are telling big fat porkies.
Pricing is equally vague, with reports putting it between $470 and $1,110, with a European release scheduled for June.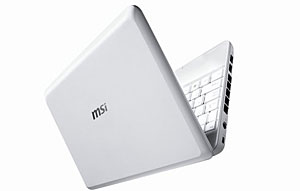 If MSI can keep the price pegged around the lower end, we might well be tempted by this cheely little fella.