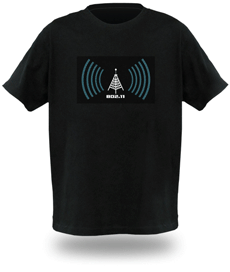 If ever you wanted a shirt that shouted out to the world, "LOOK AT ME! I'm a complete geeky l005er LaMeR5", then this has to be the one for you.
Available from ThinkGeek, the t-shirt features a glowing animated display that dynamically reveals the current Wi-Fi signal strength in the area.
As cool as a heatwave only twice as hot, the display is powered by three AAA batteries and can reveal the signal strength status of nearby 802.11b or 802.11g networks.

With the battery pack hidden away in a concealed pocket sewn inside the shirt, the makers promise 'hours' of fun, with the animated decal surely guaranteed to thrill and amaze members of the opposite sex, turning the wearer into a fashion icon and a veritable sex magnet.
Or the object of much guffawing and ridicule.
The washing instructions conveniently remind users to remove the animated decal from the T-Shirt using the hook and loop fasteners, sagely adding, "Hang to dry" after washing.
The Wi-Fi shirt is scheduled to appear sometime in late October, with a retail price of $30. You can pre-order it from ThinkGeek's website, but don't blame us if strangers point and laugh at you if you wear it down the pub.