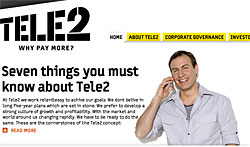 Mobile mega-company Vodafone has waved its enormous wad in the direction of Europe and acquired the Italian and Spanish assets of telecoms firm Tele2 AB for an eye-watering £537 million.
The Swedish-owned Tele2 enjoys a big presence in Italy, offering fixed-line and Internet services to more than 2.6 million users, including 400,000 broadband customers.

The Spanish operation provides broadband and fixed-line telephone services, and currently boasts 550,000 customers, around 240,000 of which have broadband.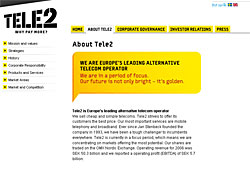 Unlike the highly competitive UK broadband market (which has already reached 60 per cent of homes), the European market is far less crowded with more room for growth.
About 44 per cent of Italian households are expected to be hooked up to broadband by the end of the year – up a hefty 30 per cent two years ago – while 57 per cent of households in Spain are expected to be broadband enabled by the end of 2007.
Vodafone Big Cheese Arun Sarin said that the acquisition, "will generate substantial time to market benefits in Italy and Spain, where low broadband penetration and the market structure make ownership of fixed broadband assets attractive."
With Vodafone previously lacking a broadband network in either Italy and Spain, Sarin added: "We have now established a clear route to delivering fixed broadband services in each of our major European markets."
Vodafone has previously limited itself to the mobile phone market, but this deal shows that the company has an appetite to supply broadband and home phone services like rivals Orange and O2.