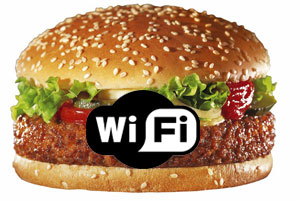 Fast food customers keen to enjoy Wi-Fi access while consuming their McSludge and McProcessed Meat Of Uncertain Heritage will be pleased to learn that McDonald's is about to roll out a free Wi-Fi service across its 1,200 outlets.

The company claims that the service will make the company the biggest provider of free wireless Internet access the UK.
The move is seen as part of the company's strategy to shunt the cheap'n'cheerful brand into a more upmarket area and grab a piece of the upwardly mobile action enjoyed by hipper brands like Starbucks.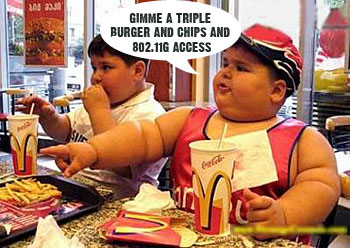 The burger- shifting giants have already been turning down the garish red and yellow colour scheme that has blighted so many High Streets, with touchy-feely brand consultants refurbishing more than 200 choice sites with a more restrained and less 'in-yer-face' green and yellow colour scheme.
The company is hoping the freebie Wi-Fi service will attract more business users as well as add value for their existing user base.
The service will be powered by network partners BT Openzone, although the company have also signed up to The Cloud as a hotspot access provider.
McDonalds CIO Ivan Brooks said, "The service will benefit existing customers but it will also attract new customers. It's an important change that allows McDonald's to retain its relevance in the market. On top of that, it's an asset for the country. People don't know where to go for free mobile Internet access."
Personally, we would rather walk five miles in the driving rain to find a local, independent cafe offering Wi-Fi than set foot inside a McDonalds, but their move certainly provides further evidence of how ubiquitous Wi-Fi is becoming in cities in the UK.