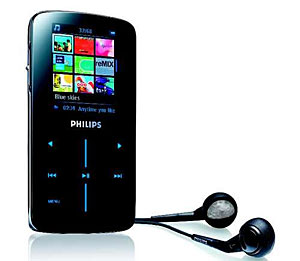 Although most folks had assumed that Philips had long given up the ghost of scoring a hit in the portable MP3 player market, the Dutch electronics giants are back with two new contenders.
Hoping to divert some of the tidal wave of Nano-bound cash into their own coffers, the 'Streamium' players come in 4GB and 2GB versions, christened the SA9345 and SA9325 respectively (way to go in the naming department, Philips!).

Measuring a very pocketable 9cm long, the SA9345 weighs just 48g and sports a 1.8-inch colour LCD screen, offering a claimed capacity of 1,000 MP3 tracks or 2,000 WMA songs – or up to 1,120 photos or seven hours of WMV content.
With a screen resolution of just 220×176 pixels, we don't imagine Messrs Apple and Mac will be too troubled with the Nano packing a more impressive 2in 320×240 display.
Both players come with Philips' touch-sensitive screen interface with a backlit "sensory" touchpad offering a "SuperScroll" feature to get you whizzing through the graphic icon-based menus.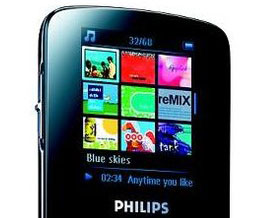 The SA9345 does steal a big march on its Nano rival by including an integrated FM radio to keep sports and news junkies updated on the move and allow Archers fans to keep up with events around Ambridge.
There's also support for 8-320Kbps and VBR MP3 bit rates, 32-192Kbps WMA audio bit rates and 320 x 240 resolution WMV9 content at up to 348Kbps (30 frames per second), with other video formats supported via the bundled software converter.
Microsoft Windows Media Player takes care of syncing content between XP or Vista desktop machines and there's support for PlaysForSure.
Battery life for the rechargeable battery is around 10 hours for continuous music playback and up to 2 hours for video – frankly, a bit rubbish compared to the 24 hours music playback offered by the Nano.
The Philips Streamium SA9325 (2GB) and SA9345 (4GB) are available now for £100 and £130 respectively. Don't all rush now!
Specs:
Picture/Display
Type LCD
Diagonal screen size (inch) 1.8 inch
Resolution 220×176 pixels , 65K Colours
Backlight yes
Lines of text 7
Sound
Bass enhancement SRS WOW
Equalizer 5-bands
Equalizer customisable Yes
Equaliser settings Classic , Funk , Hip Hop , Jazz , Rock , Spoken word , Techno
Frequency response 20 – 16 000 Hz
Output Power 2×2.5mW (16 Ohm)
Signal to noise ratio > 82dB
THD 0.1%
Audio Playback
Compression format MP3 , WMA
MP3 bit rates 8-320 kbps and VBR
WMA bit rates 32 – 192 kbps
WMA sample rates 16,22.050,32,44.1,48
Digital Rights Management Windows Media DRM for Portable Devices, Supports download & subscription music services
Video Playback
Digital Rights Management Windows Media DRM for Portable Devices, Supports download,subscription & rental video services
WMV9 Up to 384kbps, 220×176 , 24fps (Other formats supported by using provided converter software)
Philips