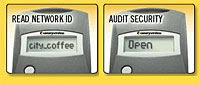 Canary Wireless have released their Digital Hotspotter device, which, as the name suggests, is a WiFi detection and analysis tool.
Unlike rival products that only detect signal availability and strength, this pocket sized marvel features a handy LCD display offering network ID, encryption status and channel data for multiple networks.
Using the Hotspotter is simple enough: whip it out of your pocket, hit the little grey button and watch as the scanner starts sniffing about for local wireless networks.
If it locates one, the screen will display a sequence starting with the network name, followed by the signal-strength readout (one to four bars), an indication of whether the signal is "Secure" or "Open" and the channel number of the detected signal. The whole process takes about ten seconds.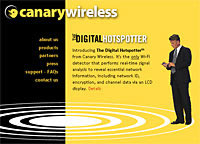 To scan for more networks, bash the button again.
The manufacturers claim that Hotspotter should work up to about 200 feet outside (with a clear line of site) and user reports have confirmed this range.
Benjamin Kern, founder of Canary Wireless, put on his 'enthusiastic' hat and explained what's great about his product: "Canary Wireless' Digital Hotspotter device offers the only convenient solution that lets a user know exactly what networks are available and allows the user to determine whether it's a good time to boot-up.
With its ability to detect encryption status, signal strength and channel information, the device also provides the easiest way for tech professionals to detect rogue access points, perform site surveys and troubleshoot interference."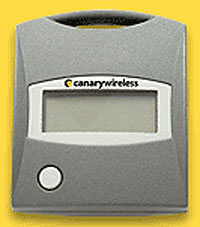 And while we can't disagree with Ben's summary, we wonder how long it will be before laptop makers start fitting WiFi sniffers into machine cases to let users seek out accessible networks without going through all the palaver of booting up.
And if the next generation of VoIP phones doesn't include built in sniffers, heck, we'll eat Ben's enthusiastic hat.
The Digital Hotspotter device is available at www.canarywireless.com and costs US$49.95 (£27/€39)