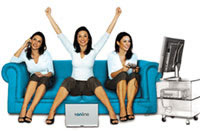 UK Online is hoping to bring broadband to the masses by smashing the price point for "entry-level" home broadband down to a wallet-untroubling £10 a month.
The Broadband 500 service will offer unlimited 512K broadband (yes, unlimited!) from just £9.99 ($18.95,/€14.55) per month to UK customers lucky enough to be in their catchment area.
The company has also reduced the price of its unlimited Broadband 2000 (2Mb) service, to £19.99 ($37.75/ €29.13) per month, with its Broadband 8000 (8Mb) service – the fastest home broadband service available in the UK – crashing down to an affordable £29.99 ($56.64/ €43.70) per month.
UK Online will be utilising Easynet's Local Loop Unbundling (LLU) investment, to offer the new price points for 512K, 2Mb, and 8Mb broadband to users on its network of unbundled exchanges – adding up to over 4.4 million homes nationwide.
Chris Stening, General Manager of UK Online, said, "LLU enables us to offer more innovative products than our competitors. Our unique 8Mb service has led the way on speed and now we are leading the way on price."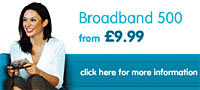 Surfers not used to this level of generosity may be wondering where the catch is, but we haven't found it yet: we wrote to UK Online and they confirmed that both the Broadband 500 and Broadband 2000 are unlimited services with the Broadband 8000 offering an enormous 500GB monthly download allowance.
The spokeswoman also added that none of their current customers currently signed up to the package have come anywhere near that limit yet.
Suitably tempted, we headed off to their site faster than a crack-fuelled ferret up a drainpipe, only to discover that we weren't in an "enabled" area.
This meant that the service would have to be delivered via BT's network, pushing the prices up to £19.99 per month for the Broadband 500 per month and £29.99 per month for the Broadband 2000 – with no Broadband 8000 option.