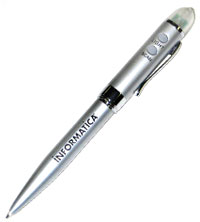 It wasn't that long ago that you'd be sure to garner approving nods from your fellow executives if you pulled out a pen that lit up when your mobile phone had a call coming in (yes! we had one too!).
But things have moved on.
Now execs looking to make a splash amongst the gadget cognoscenti in the boardroom should consider splashing out for this latest whizz-bang WiFi Detector Pen.
While your fellow suited types are rummaging in their bags ready to pull out their laptops to see if there's a signal around, you'll be able to impress the boss with a quick sweep of your James Bond-esque pen.
Touted as a 'business essential' by gadgety folks Informatica, the thing looks simple enough to operate: simply push on the button on the barrel and a green, yellow or red LED will light up to tell you the strength of any Wi-Fi signal in range, with the makers claiming that the pen can detect signals within an area of 50 feet.
All this could be yours for just $18.95, with the pen also coming with a white LED flashlight so you can, err, point your light at any hotspots you find.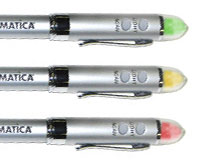 If this multi-function pen has excited your wavelengths, be advised that it's only available in limited quantities for a limited time only, so get your order in quick!
Of course, if you're serious about your Wi-Fi, we reckon you'd be better off forking out for something a little more rugged than a cheapo pen, with the $50 Canary Wireless Digital Hotspotter being a popular choice.