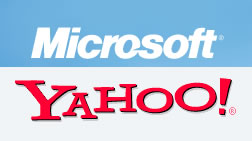 The tussle between Yahoo and Microsoft has gone through a couple of extra rounds of late. We thought we'd bring you up to date with the current state of play.
Back in Feb Microsoft offered Yahoo $44Bn. Yahoo said no thanks.
Balmer writes to Yahoo again – Oi!
On 5 April, Steve Balmer wrote an open email to the Yahoo board giving them a poke in the ribs, reminding them of the offer that they'd made to buy Yahoo at a 62% premium two months previous, but to no response. Many observers viewed the tone of the email as aggressive – close to gangster tactics in the eye of some.
Following the email people have speculated that Microsoft might stand a chance of grabbing hold of Yahoo, due to many of Microsoft's institutional investors also hold large chunks of Yahoo stock. The theory being, if Microsoft could persuade them to sell their stock blocks in Yahoo, they'll have a pretty strong chance of taking it over _without_ Yahoo's board permission.
AOL/ Yahoo Merger
Rumours of a possible merger between AOL and Time Warner emerged – alleged to be close to a deal.
The outline of the deal – Time Warner (AOL's owner) would pay cash to Yahoo, in return get a 20% stake in the combined Yahoo-AOL – excluding AOL's dialup ISP business. It would value AOL at $10bn.
News Corp and Microsoft In Talks Over Yahoo
Reports that News Corp and Microsoft were in talks to join together to bid for Yahoo – linking Yahoo, MSN and MySpace.
Yahoo Try Google AdSense
Yahoo announced that they were carry out limited testing of Google's AdSense – after years of the two companies battling each other.
Microsoft cried foul, with Brad Smith stating that, "Any definitive agreement between Yahoo and Google would consolidate over 90 per cent of the search advertising market in Google's hands. This would make the market far less competitive, in sharp contrast to our own proposal to acquire Yahoo. We will assess closely all of our options."
Microsoft bought online advertising company, aQuantive, for approx $6Bn back in May last year – at the time their largest ever purchase. No wonder they stamped their feet when they heard about a possible AdSense/ Yahoo tie up.