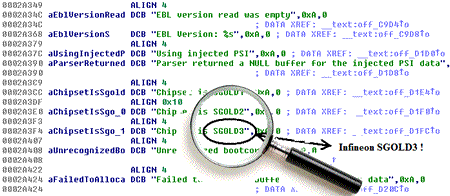 The latest version of Apple's iPhone SDK appears to reveal that the handset could have 3G – something people have been crying out for since before the launch of the handset.
Zibri, who rose to fame after hacking the iPhone to work on other networks, has been running through the code of the latest SDK — that's the kind of fun hackers have! — and has revealed his findings – a reference to the new chips being used by Apple, the Infineon SGOLD3.
On his site, he points out that the chips (PMB8878 or PMB8877) have the capability to run HSDPA at 7.2Mbit/s (often called 3.5G) – a massive increase of the iPhone's current cellular data rates.
The new chips are also able to handle much higher resolutions camera that the feeble 2.0mpx camera currently on offer. The spec states that up to 5.0mpx images can be handled.