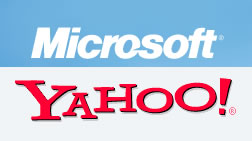 H O L D the phone!
Microsoft are reporting that they will be making a offer to purchase Yahoo for approx $44.6 billion in cash and stock.
This is not a joke, repeat, this is not a joke. It's on the Microsoft site!

This is one of the most major stories that we have ever covered in the over six years we've been covering this area.
Microsoft buying stock at the proposed $31 per share gives a 62% premium on yesterday's closing price.
Will they be Microhoo (very unlikely); Yahoosoft or our favourite when hearing this is Yicrosoft (Yike-ro-soft)?
The Microsoft senior staffer are falling over themselves to give their views.
Ray Ozzie, chief software architect at Microsoft, "Our lives, our businesses, and even our society have been progressively transformed by the Web, and Yahoo! has played a pioneering role by building compelling, high-scale services and infrastructure. The combination of these two great teams would enable us to jointly deliver a broad range of new experiences to our customers that neither of us would have achieved on our own."
Kevin Johnson, president of the Platforms & Services Division , "The combined assets and strong services focus of these two companies will enable us to achieve scale economics while reaching R&D critical mass to deliver innovation breakthroughs. The industry will be well served by having more than one strong player, offering more value and real choice to advertisers, publishers and consumers."
Steve Ballmer, chief executive officer of Microsoft, "We have great respect for Yahoo!, and together we can offer an increasingly exciting set of solutions for consumers, publishers and advertisers while becoming better positioned to compete in the online services market. We believe our combination will deliver superior value to our respective shareholders and better choice and innovation to our customers and industry partners."
More when we get it.
Wow, wow, wow.