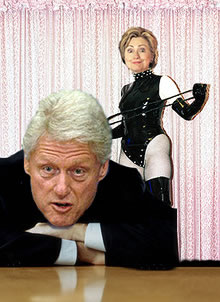 The ever-irreverent News Biscuit has hit upon a story that could well be a traffic monster for them – combining Internet porn and the current presidential race.
Those tricky laugh generators have penned a piece which tells us that some of the presidential hopefuls have realised that, as there are soooo many Internet p0rn addicts, it's worthwhile them sacrificing the female liberal vote – would would be outraged at such an idea – to get hold of the p0rn maniacs.
Pushing it, as they so often do, News Biscuit then go on to describe how some of the candidates have actually appeared in p0rn films in an attempt to gain favour.
Talking about John McCain, they describe "the veteran Republican's apparent sexual stamina and in-depth knowledge of the most popular sexual positions on the web is playing well with blue collar workers in swing states." Nice touch on the end there too, with the "swing states" reference.
News Biscuit are prone to a little graphic playfulness too, as it shown in their picture of Hilary Clinton in BDSM gear standing, whip in hand, behind a prone Bill.
Let's hope this traffic ruse works for them. They're cranking out a jolly story once a day and deserve the attention.
Presidential candidates make pitch for 'internet porn addicts' vote
Graphic: News Biscuit