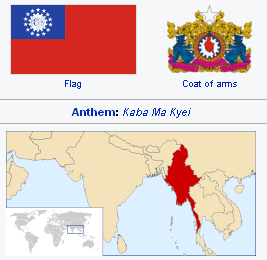 Looks like the State noose is tightening in Myanmar/Burma, particularly where the Internet is concerned.
There are reports that blogger, Nay Myo Latt, has been taken into custody, following his blog postings on the suppression of freedoms currently being enacted in the country.
Reporters Sans Frontieres (Reporters Without Boarders) have been covering the situation there and report that surveillance of Internet usage is increasing since the beginning of the year.
There is pressure on Internet cafe owners to make and keep notes of people who come into their cafes, and that screen grabs are taken every five minutes and sent to the Ministry of Communications.
The only previously-accessible blogging tool, Google's Blogger, has been blocked by the state since 23 Jan.