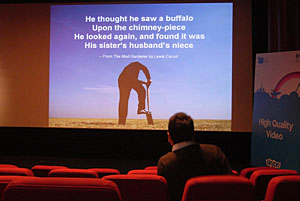 In the velvety red surroundings of what felt a bit like an underground porn cinema, an invisible DJ was pumping out a selection of ultra-bland house music as the large screen displayed nonsense quotes from Lewis Carrol's, 'The Mad Gardener'.
Kah! Those Kerrr-azy Skype folks!

Slowly the room filled with assembled hacks, film crews, alcohol-imbibing freeloaders and Skype-ees wearing suitably branded shirts. Let the Powerpoint begin!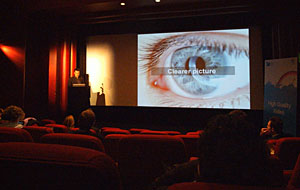 The music faded as a generously tanned Kate, Skype's Business Development Manager, rocked up to the podium to enthuse all over their super-smooth, high quality, all-new video service.
Next up was the big cheese in Skype's hardware devices department, Gareth O'Loughlin, who had no shortage of love to share when it came to all things videotastically Skype.
A stream of fact bullets were ruthlessly pumped into the auditorium as Gatling O'Loughlin cranked the 'stats and specs' handle into overdrive.
Of Skype's 246 million signed up customers, there will be 10 million video users online at any time. Twenty five per cent of all Skype calls include video. The new service will serve up high quality VGA video (640 x480 HQ resolution) at a sprightly 30fps, but users with steam powered PCs can apply elsewhere.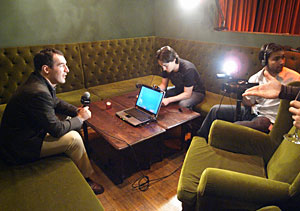 To enjoy the full experience, you've got to be a signed up member of the high-horsepower Dual Core PC crowd because the HQ video is shunting eight times the data compared to standard Skype video. Moreover, you'll need a minimum 384kbps bandwidth connection at both ends and, of course, a shiny new Logitech cam.
Ricardo Gonzalez, the Product MD at Logitech was next on the microphone, telling us how their collaboration with Skype was a mighty step forward in technology – "some said it could not be done!" – involving long hours at t'PC to create the necessary new software and drivers.
With a taste for the literal when it came to Powerpoint, we were treated to a picture of nuts and bolts when he talked about the, err, nuts and bolts of the new webcams, and when he wanted to talk about the 'market landscape' – yep, you guessed it: cue pic of a landscape!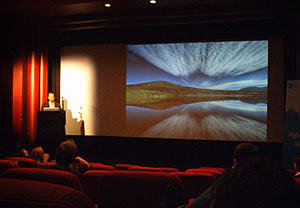 Gonzalez detailed the three new webcams developed for the new service, adding that he thought it would be quite a while before any other company would be able to match their achievement.
A slightly stomach-troubling video of a baby trying to hug its Skype-connected grandmother onscreen followed, before a short video by Robert Phipps offered 'body language' tips on how to conduct good video calls.
A mercifully short Q&A session wrapped up the presentation, where we learnt that the Windows-only new drivers should be ready in a day or two and that Mac users will have to wait an unspecified period before they can start joyously wallowing in the mudpit of HQ vid-calling.
We'll be testing out the new service just as soon as we find someone with the new Logitech camera to call, but the brief glimpse we saw at the launch did look pretty damn fantastic.