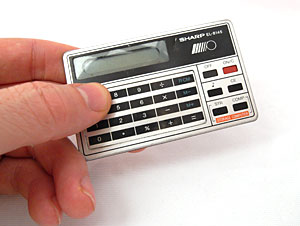 Following on from our look back at the Toshiba Libretto 50 – a miniaturised blast from the past – we thought we'd pay homage to what is probably our oldest still working (just) portable electronics device, the Sharp EL-8145 calculator.

When it came out in 1978 it felt like we were holding a piece of future in our over-excited hands, with its credit card sized dimensions, wafer thin 3.5mm body, hi-tech membrane keys and Apollo moonshot-like silver and black colour scheme giving us the sci-fi surges.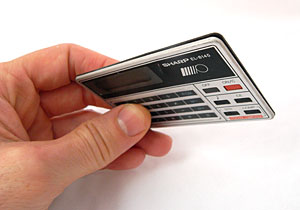 And what's more it bleeped when you touched the keys. And had a 'storage computer' onboard!
The truth was we were never really great calculator users and spent most of the time just inputting numbers to look like words when they were turned upside down (oh how the office laughed when we showed them how 317537 made up LESLIE!).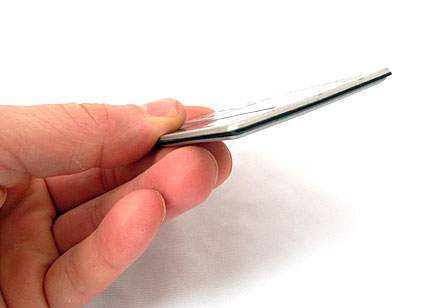 Despite our less than demanding requirements, there was no denying that for the late 70s this was an impressive piece of consumer kit – heck, even now it looks quite good for its age.
Made in Japan, the shrimp-sized Sharp offered all the standard calculator functions you could possibly need with its twin "G8" silver oxide batteries ensuring that the 0.0002W device was kept powered up.
The battery life was outrageously good – we're talking decades here – although it has to be said that the calculator hasn't worn so well.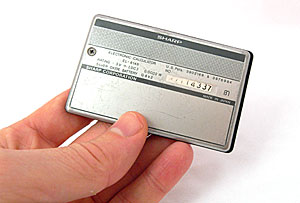 Time – and many years of being knocked around a drawer full of cables and odds'n'sods – has certainly taken its toll on the trusty calculator.
The once proud beep now sounds like a hamster being strangled on a high-speed slimming belt. Bits of the LCD characters no longer work. There's a dent in the front and the thing flexes rather worryingly when you press a key. It's not long for this world.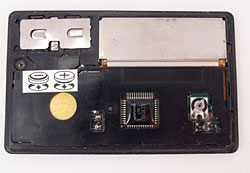 We never did work out what the 'storage computer' was for and it's unlikely we'll ever know now – although there is the option to download a PDF manual for the calculator for $15.99. Can't imagine there's much of a market for that but at least it's there if we suddenly wake up in the middle of the night and simply had to know.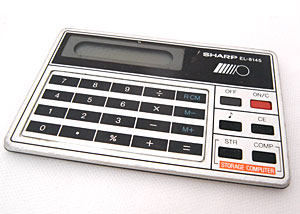 Although we felt we were being a little, well, nerdy rummaging around the Internet looking up details of a twenty-nine year old, long-forgotten device, we should have known that we'd find lots of far more obsessive individuals out there who have put together disturbingly in-depth tributes to the trusty calculator.
Here's a few for you:
Collecting calculators: xnumber.com/xnumber/carticles.htm
Calculator museum: mrmartinweb.com/calculator.html
Programmable Calculators rskey.org/exhibit.html