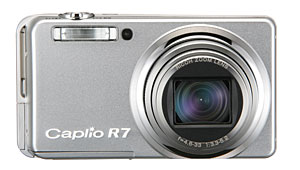 Although they've never really enjoyed the same public recognition as big name rivals like Canon and Nikon, Ricoh have consistently produced interesting and sometimes innovative cameras in recent years.

Their high-end Ricoh GR Digital was a prosumer's dream compact which earned a rave review from us, while their upmarket wideangle GX100 continues to garner a very positive reaction around the office (expect a full review soon).
Their consumer 'R' range of compacts has continued development at a fair rate of knots – we were very keen on last year's Ricoh Caplio R4 but its follow-up, the Caplio R5 got a cooler reception.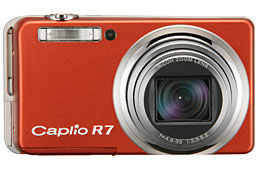 We hadn't got around to reviewing the 7.2 megapixel Caplio R6 announced earlier this year, but – would you believe it – they've gone and upgraded the ruddy thing again!
The new R7 gives the pixel count a gentle nudge upwards to 8.15 megapixel and comes in the same slimline package (just 20.6 mm at its thinnest point) with an 7.1x optical wide zoom lens (28–200 mm in 35 mm camera format).
This is a pretty useful range for a compact, with the short wideangle allowing for architectural shots, landscapes and beery team shots of your mates. Zoom speed can also be set between high and low.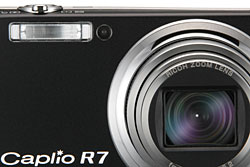 The camera also comes with a vibration correction function and the all essential, new fangled Face Recognition Mode (how did Andre Kertesz and Cartier Bresson ever cope without one?!)
Macro lovers should be kept happy with Ricoh's bonkers macro mode that lets you snap objects a mere 1cm from the lens in wide macro mode.
New for the R7 is Ricoh's Smooth Imaging Engine III, with the camera adding an Adjust button for fast user-adjustment of exposure compensation, white balance, ISO sensitivity and other settings.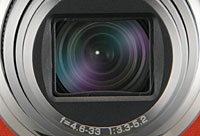 The Caplio R7 packs three bracketing modes: auto bracketing, white balance bracketing and a novel colour bracketing mode which shoots three consecutive shots in black and white, colour and sepia.
New brightness and colour-tone functions let punters tweak image brightness and colour-tone in-camera, while a large 2.7″ 230k LCD screen on the back offers a wide viewing angle and high contrast.
The R7 should be trying to seduce you from the shop shelves in September 2007 for around 230 quid. The camera will be available in Silver, Black and Orange finishes.
Ricoh Caplio R7 – Major Specifications:
CCD: Effective 8.15 million pixels (total 8.29 million pixels), 1/2.5-inch primary colour CCD Lens:
Focal length: f=4.6-33 mm (equivalent to 28-200 mm for 35 mm film cameras. With Step Zoom set, option of seven fixed lengths: 28 mm, 35 mm, 50 mm, 85 mm, 105 mm, 135 mm, and 200 mm)
Vibration Correction Function: CCD shift method
Zoom: Optical 7.1x zoom (equivalent to 28-200 mm for 35 mm fi lm cameras), Digital zoom: 4.8x, Maximum: 34.1x (equivalent to 960 mm) when used with optical zoom Auto Resize Zoom: 5.1x*1, Maximum: 36.2x*1 (equivalent to 1010 mm) when used with optical zoom
Object Distance: Approx. 30 cm – infinity (Wide), approx. 1.0 m – infinity (Telephoto) (From lens tip)
Macro Shooting Distance: Approx. 0.01 m -∞ (Wide), approx. 0.25 m -∞ (Telephoto) (From lens tip)
Shutter: Still image: 8, 4, 2, 1 – 1/2000 sec. / Movie: 1/30 – 1/2000 sec.
Resolution (pixels): Still image: 3264×2448, 3264×2176, 2592×1944, 2048×1536, 1280×960, 640×480
Text: 3264×2448, 2048×1536
Movie: 640×480, 320×240
Picture Mode:F (Fine) / N (Normal)
ISO Sensitivity (Standard Output Sensitivity: AUTO / AUTO-HI / 64 / 100 / 200 / 400 / 800 / 1600
Flash: Flash Off, Auto, Red-eye Flash, Flash on, Flash Synchro, Soft Flash
Flash Range: approx. 0. 2 m – 3.0 m (Wide-angle), approx. 0.25m – 2.0 m (Telephoto)
Focus: Auto Focus / Manual Focus / Snap / ∞ (AF auxiliary light)
Exposure Adjustment: TTL-CCD Metering Method: Multi Light Metering (256 segments) / Centre-weighted Light Metering / Spot Metering
Exposure Compensation: Manual exposure compensation +/-2.0EV (1/3EV Steps), Auto Bracket Function (-0.5EV, ±0, +0.5EV)
White Balance: AUTO/ Fixed: (Outdoors / Cloudy / Incand. / Incand 2 / Fluores. / Manual) / White Balance Bracket
Memory Type: SD memory card (3.3V: 32, 64, 128, 256, 512 MB, 1GB, 2GB), SDHC memory card (4GB), Multi media card, Internal memory (24 MB)
Storage Capacity (No. of Pictures) (on internal 24 MB Memory):
Still image: 3264×2448 (F: 7, N: 13) / 3264×2176 (F: 8) / 2592×1944 (N: 21) / 2048×1536 (N: 31) / 1280×960 (N: 58) / 640 x 480 (N: 219)
Storage Capacity (time) (on internal 24 MB Memory): Movie: 640×480 15 frames/sec. (36 sec.) / 320×240 15 frames/sec. (1 min. 10 sec.) / 640×480 30 frames/sec. (18 sec.) / 320×240 30 frames/sec. (36 sec.) /
Storage Capacity (file sizes):
Still image: 3264×2448 (F: 2.90 MB, N: 1.67 MB) / 3264×2176 (F: 2.58 MB), 2592×1944 (N: 1.07 MB) /
2048×1536 (N: 680 KB) / 1280×960 (N: 365 KB) / 640×480 (N: 95 KB) (Sizes are approximate.)
Recording Mode: Still Image: (Still Image, CONT., S-CONT, M-CONT) / Scene Modes (Portrait, Face, Sports, Landscape, Nightscape, High Sensitivity, Zoom Macro, B&W, Sepia, Skew correction, Text, Movie), My Setting 1+2
Recording Format: Still Image: JPEG (Exif ver. 2.21) DCF compliant DPOF support
Text: JPEG (Exif ver. 2.21) DCF compliant DPOF support
Movie: AVI (Open DML Motion JPEG Format compliant)
LCD Monitor Display: 2.7 inch Transparent Amorphous Silicon TFT LCD (approx. 230,000 pixels)
Self-timer: Operation time: approx. 10 sec./approx. 2 sec.
Interval Timer: Shooting interval: 5 sec. – 3 hours (5 sec. steps)
Other functions: Correct Contrast / Correct Tone / Colour Bracket (CL-Bkt) / Record Dual Size
PC Interface: USB2.0 Hi-Speed: Mini B cable (Certification pending). mass storage device compatible*8
AV Interface: Audio Out/ Video Out Video
Signal Format: NTSC/PAL switchable
External Dimensions: 99.6 mm (W) x 55.0 mm (H) x 23.3 mm (20.6 at the thinnest part) (D) (excluding projecting parts)
Weight: Approx. 135 g (excluding battery, SD memory card, strap), Accessories approx. 26 g (battery, strap)
Battery: Rechargeable battery (DB-70) x1
Shooting Capacity: Based on CIPA Standard: using the DB-70, approx. 300 pictures
Operating Temperature Range: 0ºC-40ºC