We felt the love for their Caplio R4 digicam and were a little cooler on the Caplio R5 follow up, so we'll look forward to getting our hands on Ricoh's new Caplio R6 digital camera, announced before the PMA show.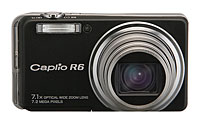 As ever, the camera sports a beast of a 7.1x optical wide zoom lens (28–200 mm in 35 mm camera format) in a slim body measuring a pocketable 20.6 mm at its thinnest point.
As with its predecessors, the 7.2 megapixel Caplio R6 comes with CCD-shift vibration correction and bolts on the current must-have feature, face recognition (we have to say we remain a little underwhelmed by this much touted technology).
We like the sound of a new quick review feature however that lets you instantly enlarge an image 16 times to check everything's snippety snappity in the sharp focus department.
The Ricoh Caplio R6 comes with a handy 54MB of internal memory, letting you take 34 shots at 7M size (normal mode). If you've ever had a memory card go kibosh on you when you're out in the field (we have), this could prove a very useful fallback.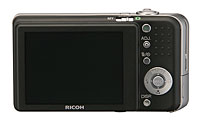 The camera comes with high-resolution, high viewing angle 2.7-inch LCD (up slightly on the R5 LCD), with Ricoh claiming a long 330 shot battery life.
The interface has also been improved, letting punters select individual images for deletion, backed by a handy File Recovery feature letting you restore images accidentally erased.
Macro fans should moisten at the close-up shooting mode, letting you get as close to 1 cm with wide macro and as close as 25 cm with telemacro.
The Ricoh Caplio R6 will be lining up on the shelves of your favourite retailer in March 2007 and will be available in Silver, Black and Red.