Mobile phone sales to end users fell just short of one billion units in 2006, with last quarter sales apparently boosted by preparations for the Chinese New Year.
The figures from Gartner reveal worldwide mobile phone sales cruising to 990.8 million units in 2006, up a hefty 21.3% from 2005's 816.6 million units, but still a tad short of the one billion predicted.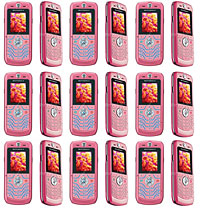 The market seems to be consolidating around the big name manufacturers, with other vendors now only accounting for 14% of worldwide mobile phone sales in 2006 – down 5% from 2005.
Nokia
Cellular kings Nokia continue to be the big cheese, the head honcho, the main squeeze and the top of the mountain, hogging a lardy 36.2% market share with 103 million units shifted in the fourth quarter of 2006. This represents a rise of 1.2 percentage points over the same period in 2005.
For the whole of 2006, Nokia shifted nigh-on 345 million mobile phones, grabbing a market share of 34.8%.
"Despite attracting criticism for lack of 'slim' products and a weak mid- range offering, Nokia was not only able to hold its No.1 position, but grow market share. Strong low-cost product offerings in the emerging markets, as well as feature rich products in the mature market, proved to be the right combination for Nokia in 2006," commented Carolina Milanesi, principal analyst for mobile terminals research at Gartner UK.
Motorola
Puffing some way behind up the cellular hill is Motorola, who flogged a ferret's finger over 61 million mobile phones in the fourth quarter to scoop up a market share of 21.5%.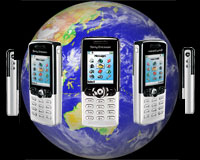 Motorola's total sales for 2006 hit 209 million units, which translates into a 21.1 percent market share.
Samsung
Slipping quietly into third place is Samsung, boasting fourth quarter sales of 32 million mobile phones to snaffle an 11.3% market share.
Overall sales in 2006 were slightly more than 116 million units, a 12% increase from 2005.
Sony Ericsson
Close enough to let Samsung feel the lick of their competitive tongues is Sony Ericsson, who produced a strong last quarter of 2006, notching up 25.7 million mobile phones across the world, earning them a market share of 9%.
Sony Ericsson's overall sales for 2006 hit 73.6 million units, with their market share growing by 1.1 percentage points to 7.4%.
LG
In fifth place is the flagging LG, whose 17.8 million last quarter mobile phone sales saw their market share slump to 6.3 percent, down from 7.2% in the same period in 2005.
Sagem
Elbowing BenQ out from the leading six pack, Sagem registered 4.36 million units and a 1.5% market share
Worldwide sales
Fourth quarter sales in Asia-Pacific continued to soar, reaching 87.7 million units, a 56% rise from the same time in 2005.
Total unit sales for 2006 sales totalled 301 million units, up 47% from 2005's total, with slim phones being the big sellers.
The Eastern Europe, Middle East and Africa sector saw 52.4 million new mobile phones shifted during the fourth quarter of 2006, 13% higher than 2005.
In Japan, 13 million units zipped across the sales counters, adding up to an increase of 10.9% from the fourth quarter of 2005
Latin America saw year-over-year sales up 13.5%, while North America scored a record 44.8 million units sold to end users in the fourth quarter of 2006.
Even more phones were sold in Western Europe, with sales in the fourth quarter of 2006 hitting 51.8 million phones.
"We look forward to another exciting year in the mobile phone industry with more technologies becoming available and new players from other industries entering and adding some spice to an already very highly competitive market. We expect growth to slow down and overall mobile phone sales to be up to 1.2 billion worldwide," concluded Milanesi.