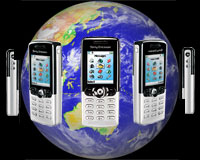 Global mobile shipments are set to hit one billion this year for the first time.
According to researchers IDC, a total of 254.9 million units were shipped in the third quarter of 2006, up 7.9 per cent from the previous quarter and a hefty leap of 21 per cent from the same quarter in 2005.
IDC's Worldwide Quarterly Mobile Phone Tracker saw record performances from all top five top industry vendors during the first three quarters of 2006.
"Shipping nearly a billion units in a single year is a significant milestone, but just as important is the journey it takes to get there," mused Ramon Llamas, research analyst with IDC's Worldwide Mobile Phone Tracker.
"Emerging markets have presented tremendous opportunity for vendors to provide users with their first handsets, and some users may already be looking to upgrade to another phone. Similarly, replacement handsets are a popular option for those in mature markets, especially as new features such as music have gained momentum," he added.
Ryan Reith, research analyst with IDC's Worldwide Mobile Phone Tracker noted that, "the strong growth in the third quarter was very comparable to the growth we saw in 3Q05, as the trend of vendors and carriers working to prep for the holiday season begins."
"Handsets that provide music functionality are now very visible in the industry. Mature markets are at a point where it is worthwhile for the carriers to launch these devices with strong marketing campaigns behind them, knowing that consumers are willing and ready to use their device as a music player as well as a phone," Reith added.
The big boys break records
Nokia turned in another superlative performance, exceeding expectations and setting a new industry record by shipping 88.5 million units in the third quarter, cruising past its previous record by 4.8 million units, with the telecoms giant reporting double digit growth in the Far East, Europe, US and Chinese markets.
Records were also broken at second-placed Motorola, who enjoyed their sixth straight quarter notching up growth of around 40 per cent or better, helped on by the success of their RAZR phone.
Samsung managed to shift thirty million units in a quarter for the first time, while the number four vendor, Sony Ericsson notched up a healthy twenty million units.