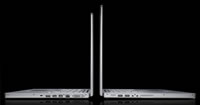 Apple has updated its whole MacBook Pro range of laptops to run Intel's Core 2 Duo range of processors. They claim a 39% speed improvement.
There may be a few who will be a little peeved with this. Many people jumped on to the new Apple range of laptops when it was launched back at the start of this year. At that time they were using the plain-old Core Duo chips but even those gave a considerable speed improvement – two to three times the previous G5 equivalent. They were universally celebrated.

Those keen little things, who shelled out for them, might be a little down in the mouth to find a new, even whizzier version coming out.
The rest of the specs of the machines have remained the same, including the outside casing. We covered the specs in detail at the original launch, or if you want to delve into the depths of the specs, take a look at the Apple site.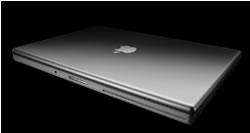 Pricing
2.16 GHz 15-inch MacBook Pro – £1,349 (inc. VAT)
2.33 GHz 15-inch MacBook Pro – £1,699 (inc. VAT)
2.33 GHz 17-inch MacBook Pro – £1,899 (inc. VAT )