Cellular phone provider T-Mobile US is offering a service, HotSpot @Home, giving unlimited calls to US phones via WiFi. This in itself isn't big news, but what is significant is that callers leaving the range of the WiFi will automatically switch to their cellular service. Initial roll-out is limited to Seattle.
This type of service has been long-discussed, but several technical barriers stood in its way, primarily handing the call from the WiFi-connected call over to the cellular network, without losing the conversation, or a break in the speaking. It's pretty complex.
Beyond the mechanics of the call hand-over, the riddle of when and how the subscriber would be billed when transferring to the cellular network – and stopping that billing when they reconnect to WiFi has also caused great confusion for a long time.
Cellular reception within peoples home is often pretty ropey, so using their WiFi service will give considerably better reception – making them happy bunnies.

To use the service, three items are required – two pieces of hardware and a service plan. Once the special cellular/WiFi handset has been selected (which look surprisingly decent) and the Wireless hotspot router is installed on the home network, all that is required is the add-on ($19.95/month) on top of the normal $39.95.
The two handsets currently available are the Samsung T709 slider or the Nokia 6136 flip.
BT has been offering a similar service in the UK for a while under the product name BT Fusion. The difference with BT Fusion is it uses Bluetooth to handle the wireless calls at home rather than WiFi.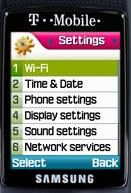 T-Mobile is the mobile communications subsidiary of Deutsche Telekom, the German telco incumbent.
They have spent considerable effort over the recent years not only building and owning their cellular service, but doing the same with their WiFi network, clearly understanding early on that WiFi would be a significant threat to cellular services.