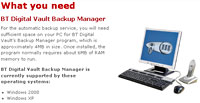 BT has launched a 'virtual vault' offering a secure online location for broadband users to safely stash personal files.
The service comes in two flavours, with the free BT Digital Vault Basic service letting users manually upload photos, emails, music, video files and contact information up to a storage capacity of 2GB.
The free service is open to anyone, not just BT Broadband customers.
For users requiring more storage space and automated back-ups, the full BT Digital Vault service costs £4.99 a month and includes a generous 20GB online storage capacity.
Automatic back ups
Billed as a quick and easy way for home users to securely back up their data, the package includes the BT Digital Vault Backup Manager which automatically detects when users have updated the content of files flagged for backing up.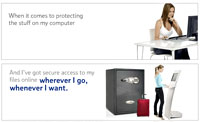 The manager then synchronises the data with the copy stored in the Digital Vault, with no user intervention needed.
Data uploaded from the user's PC is encrypted as it is transmitted with the password-protected files being stored in BT's secure data hosting centre, which is accessible from any Web connection.
"People are often unsure about how to keep their online data safe… if you want to share your holiday snaps with a friend, retrieve important files, or backup files on your laptop when you're away from home, it's all possible with BT Digital Vault," said Gavin Patterson, managing director of BT Retail's consumer division.
Currently, only the service is only available to PC users, running Windows 2000 and XP.