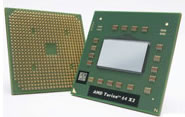 AMD, the second largest microprocessor manufacturer has complete the purchase of graphics, chipset and CE specialist ATi Technologies in a deal worth around $5.4Bn.
From day one they're talking a new game – "Fusion." The integration of the central processing unit (CPU) and graphics processing unit (GPU) at the silicon level. Interestingly they claim this will give them a significantly increase in performance-per-watt – benefitting both portable devices, by giving them longer results from batteries, and more efficiencies for mains-powered computers, vital in the world we're entering with a need to keep an eye on power consumption. The Fusion products are expected late 2008/early 2009.
Phil Hester, AMD senior vice president and chief technology officer summed it up, "With the anticipated launch of Windows Vista, robust 3D graphics, digital media and device convergence are driving the need for greater performance, graphics capabilities, and battery life."

The capabilities of graphics processors have been gathering pace over the recent years to the point where they come close to rivaling the main processor themselves.
To get hold of ATi, AMD are splashing $4.3Bn in cash and also handing over 58m AMD shares. $2.5 billion of the cash mountain comes courtesy of a term loan from Morgan Stanley Senior Funding. The intention to do the deal was made in July this year.
At the time of the original announcement there was some speculation that ATi rival, nVidia would sell to Intel. This didn't come to pass, possibly because already has a strong graphics chip division. To minimise the impact of todays deal on nVidia, Mike Hara, Nvidia's vice president of investor relations, told Reuters, "It reinforces our philosophy that we don't want to be tied up. I don't think anything changes. In fact, what we've already felt and seen I think gives us the energy to push faster."