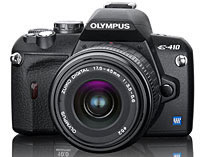 Olympus has announced details of two additions to their dSLR range in the run up to the Photo Marketing Association (PMA) trade show in Las Vegas which starts on the 7th March.
Olympus E-410
An upgraded and improved version of the E-400 digital SLR, the ultra compact dSLR comes with a ten megapixel Live MOS sensor which offers the company's innovative Live View featutre.
This means that as well as using the optical viewfinder, snappers can preview scenes on the large 2.5″/6.4cm HyperCrystal LCD – just like a compact digicam. We wish all cameras had this feature as it opens up lots of creative options when shooting.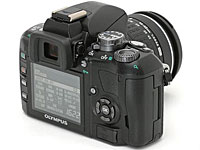 Olympus have also increased the camera's high sensitivity performance thaks to a new TruePic III processor, backed by improved buffering of continuous frames offering shooting at 3fps with up to seven images in RAW buffer
The camera comes with dual memory card slots – annoyingly, neither are which are the hugely popular SD format (xD-Picture Card and CompactFlash) – and comes in a pleasingly small 5.1″ x 3.6″ x 2.1″ package.
The E-410 serves up 32 shooting modes (incl. 5 exposure, 7 creative & 20 scene modes) and is compatible with the Four Thirds System.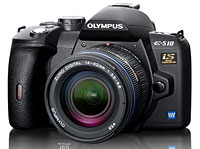 Olympus E-510
An upgrade to the E-500 digital SLR, the new E-510 also comes with a ten megapixel Live MOS sensor offering Live View, but adds in-body, sensor shift based Image Stabilisation.
Packaged in a new, attractively styled, traditionally body, the Four-Thirds E-510 has pleasingly small dimensions and is aimed at both the serious amateur and semi-professional.
The E-510 offers the same 3fps shooting rate (up to seven images in RAW buffer) with 28 shooting modes available (incl. 5 exposure, 5 creative & 18 scene modes), supported by Olympus's Supersonic Wave Filter for shaking off those pesky bits of sensor dust.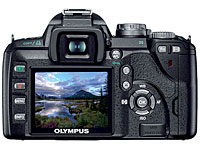 Although not quite as small as it's younger brother, the camera still measures up at a pleasingly bijou 5.4″ x 3.6″ x 2.7″, making it a great choice for travellers.
We'll be nagging Olympus to see if we can get our hands on a review model soon.
[Via]