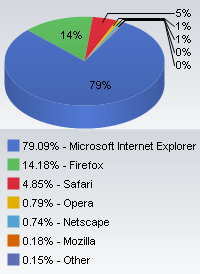 Like hungry puppies with sharp teeth, Mozilla's Firefox and Apple's Safari Web browsers continue to chew and gnaw away at the juicy legs of Microsoft's Internet Explorer (IE).
According to new figures from Web metrics company, Net Applications, February saw both Firefox and Safari grab a bigger share of the browser market as IE's share continues to shrink.
Firefox – which comes in Windows, Mac OS X and Linux flavours – increased its share from 13.7 percent in January to 14.2 percent, while the Mac OSX Safari browser had a small but noticeable shimmy upwards, from to 4.7 percent from 4.85 percent.
Despite dropping in the rankings, Microsoft's Internet Explorer still retains the Billy Bunter share of the browser market, devouring 79.1 percent (down from last month's 79.8 percent.)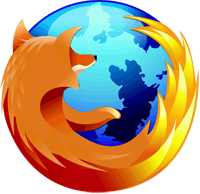 "After a minor hiccup in January, Firefox seems to be back on the offensive in February," said the fabulously named Vincent Vizzaccaro, Net Applications' executive vice president of marketing and strategic relationships.
"January showed a brief halt to Firefox's assault on Microsoft Internet Explorer's market share. Could that have come from new Vista machines?" asked Mr VV.
Before any hands could be raised in answer, the double V man delivered his verdict, "Possibly, but it appears that browser users have gone back to switching to Firefox, Safari and Opera."
The well liked Opera browser also saw its market share rise a smidgeon, but it's still deep in the niche territory, registering just 0.79 percent in February, up from 0.73 percent from last month.