Another day, another content deal as the UK National broadcaster, the BBC, sign a deal with YouTube/Google to make a selection of their content available on YouTube on an non-exclusive basis.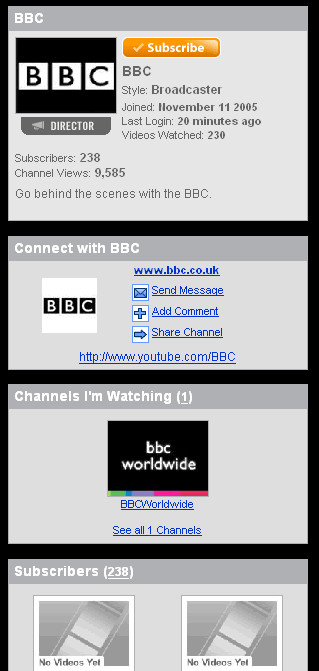 Two deals have been done, one with the BBC, the other BBC Worldwide, the commercial arm of the BBC. Financial terms of the deal aren't being discussed at all.
There will be three YouTube 'channels' under the deal. Two of them are live already, BBC and BBCWorldwide, with BBCWorld to follow 'shortly.'
BBC is very much in the YouTube model, full of rough camcorder diary pieces, and behind the scenes shots giving an 'insight' into the workings of the BBC. Currently there are 31 pieces going back one month.
BBCWorldwide is labelled as "The best of British TV" and currently has 78 video pieces on it and contains a ton on Top Gear, Attenborough and a smattering of comedy shows like The Mighty Boosh and Catherine Tate. Will also "include a limited amount of advertising."
BBCWorld isn't up and running yet, but when it is, will only be available to YouTube viewers outside the UK. It will be advertising-funded.
Mark Thompson, Director-General of the BBC, likes the project, "The partnership provides both a creative outlet for a range of short-form content from BBC programme makers and the opportunity to learn about new forms of audience behaviour.
What's it like?
Surprisingly for the BBC the quality of the video isn't what it could be. Quite a change from the days when quality was everything.
Interestingly, fans of BBC content are barred from showing their fav ditties on any other sites as "Embedding disabled by request." If the BBC has requested this, or YouTube isn't clear. It's more likely given they've paid the BBC for their content, and we imagine that they damn well want viewers visiting their site to see the videos.
This is great for the BBC as they get to distribute their content widely (fitting their remit) while not having to spend any money on distribution of the content, in fact receiving payment for the privilege.