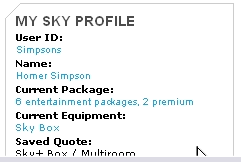 Sky has gradually been increasing the number of ways to program your Sky+ and HD boxes to record. The latest, via the Internet, joins interactive via mobile phone and the rather convoluted mobile text message services.
In those situations where Sky subscribers find they haven't set their boxes to record the latest episode of Celebrity Trouser Press, and can't live without seeing it, relief will now be at hand.
By grabbing the closest (compatible) Web browser, Sky subscribers bring up the Sky site, login and take themselves to TV Listings. The next seven days of TV programming will be brought up, and, when Celebrity Trouser Press is found, by clicking on the title, the description of the programme and its options are brought up.

All that is needed to program the box is a click on Remote Record, and a subsequent confirmation to send the request to the box nestled under the TV at home.
Sky tell us that it can take up to 30 mins for the programming request to reach its destination, but it's highly likely to be significantly quicker than that.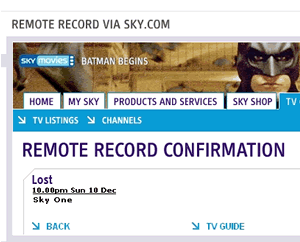 Strangely they have decided to impose a limit of 10 recording request a day via the Internet – but, in our view, anyone who need to remotely programme their box more than that needs help anyway. Those afflicted can reach for their mobile to carry on programming until their thumbs bleed.
Well that's it. The remote programming circle is now complete. All ways to program your Sky+ box are now available … err, except the direct brain method. We await the call from Sky on that one.