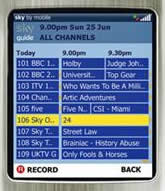 Desperate to program your Sky+ PVR, while out and about? Or can't be bothered to reach for the TV remote control when you've got you mobile in your hand?
Help is at hand (ha ha) as Sky announce their program-your-Sky+-box-via-your-mobile-service, that they've catchily named Sky+ Remote Record.
There are two ways to use the service. Either download an application to your mobile phone or via SMS on a mobile.
Remote Record
This is the comprehensive offering and only works on data-enabled 2.5G, 3G or GPRS phones.
To get setup, subscribers have to be registered via Sky Active and download the app to run on their mobiles.
From what we've seen it looks pretty slick, with a similar feel to the Sky EPG. It contains 7-days worth of programming listings and details on the shows.
Be aware that updating the EPG data will require updated information to be retrieved from Sky – along with corresponding data charges from your mobile operator. Beyond the mobile operators data charges, the service is free.
Text Your TV
We're sure you've guessed the basics of this already – you text the programme you want recorded from your mobile.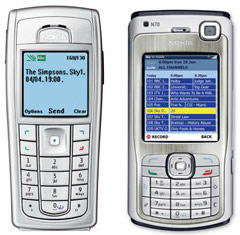 It looks like using it might be a bit of palaver with the need to SMS quite precise and long winded instructionsThe Simpsons. Sky 1. 11/06. 18:30.
to the dedicated 'Remote Record' number 61759.
At the Sky-end a massive brain works out what they could have meant and sends them back a confirmation SMS, charging 25p in the process.
We'd imagine that great confusion will reign on Friday nights as the pissed up masses send their best guess at what a Television X programme might be called.
Availability
It will work with all Sky+ boxes including Sky HD, but is only available to subscribers with Sky Sports 1 & 2 and/or Sky Movies 1 & 2 in their package or be a Sky Bet customer.
Up to eight mobiles can be registered with either service per Sky+ box.
Following these mobile-focused announcements, Sky will be bringing out a similar service working over the Internet 'over the summer.'
Sky continues to expand their application of technology to what was originally a satellite TV service.
A little bird tells us that Sky will be officially unveiling their Broadband ISP service soon. Back in October they bought EasyNet and have been busily bringing it in to the Sky fold and are planning to offer communication services, widely expected to be voice services as well.