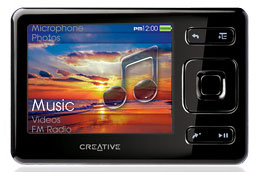 Shinier than the beady eye of a well groomed Magpie, Creative's new Zen looks a snappy number in its all-black suit, weighing just 65g and sporting credit credit card-sized dimensions.
The 11.3mm thick mini-player doesn't shirk when it comes to storage space, with three models offering 4GB, 8GB and 16GB options, backed by a SD memory expansion slot. According to Zen's calculations, you'll be able wedge in 4,000 MP3s at 128kps on the 16GB model, which converts into 266 hours of non-stop music listening action/.

Well, we say 'non-stop' but the Li-ion battery certainly wouldn't be able to keep going that long, with Creative quoting a battery life of 25 hrs audio playback and up to 5 hrs of video viewing.
Dominating the front of the unit, is a generous 2.5″ 16.7 million colour TFT LCD, serving up up 320 x 240 pixels resolution, with a mini-USB 2.0 slot and headphone socket to be found on the right hand side of the unit.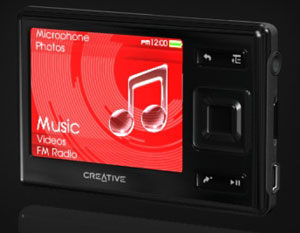 Media support is impressive for such a little fella, with support for MP3, WMA, AAC4 (.m4A), WAV (ADPCM) and Audible 2,3,4 music formats and MJPEG, WMV9, MPED4-SP3, DivX3 4/5 and XviD3 video codecs. There's also support for JPEG (BMP/ GIF / PNG / TIFF) image files, although these have to be transcoded by the bundled software.
But wait – there's more! The Zen also packs a FM radio with 32 preset stations, and a swathe of EQ presets and a 5 band equaliser for you to tweak the frequencies to your little heart's desire.
Rounding up the feature list of this wee gizmo, there's a basic organiser onboard that can sync up to Microsoft Outlook, personalised alarm alerts and an integrated voice recorder.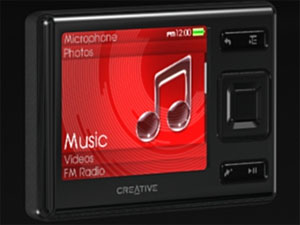 All in, it looks to be a rather tempting package (check out Popular Mechanic's early Zen review), although we'd recommend that you hang on to your pennies for a few more days and see what Apple's Sept 5th announcement brings.
The Creative ZEN will be available next month, priced US $149.99, $199.99 and $299.99 for the 4GB, 8GB and 16GB models respectively.
Zen specifications
Capacity: 4GB / 8GB / 16GB
Size: 55 x 83 x 11.3mm
Weight: 65g
LCD: 2.5″ 16.7 million colour TFT LCD 320 x 240 pixels
Songs:
4GB
2,000 WMAs/ 133hrs (at 64kbps)
1,000 MP3/ 33hrs (at 128kbps)
8GB
4,000 WMAs/ 266hrs (at 64kbps)
2,000 MP3/ 133hrs (at 128kbps)
16GB
8,000 WMAs/ 532hrs (at 64kbps)
4,000 MP3/ 266hrs (at 128kbps)
Battery Life: Up to 25 hrs audio playtime
Up to 5 hrs video playtime6
Video Playback Formats: MJPEG, WMV9, MPED4-SP3, DivX3 4/5 and XviD3
Audio Playback Formats: MP3, WMA, AAC4 (.m4A), WAV (ADPCM), Audible 2,3,4
Photo Formats Supported: JPEG (BMP/ GIF / PNG / TIFF)5
Battery: Embedded Li-ion battery
FM Radio: 32 preset stations
EQ Settings: 8 presets and 5 band custom EQ
Organiser: Calendar, Contact, Task List
Power Charging: Yes
Album Art: Yes
Voice Recording: Yes
Connectivity: USB 2.0, SD connection