Last time we looked at one of Ricoh's upmarket cameras, the Ricoh GR, we went all Victor Kyam and liked the camera so much we went out and bought the thing, and Ricoh's new GX100 has got our wallet hand twitching again.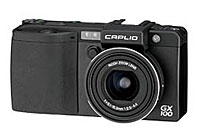 Never a company to run with the pack, the new Ricoh Caplio GX100 serves up an innovative feature set, with a super wide 24 to 72 mm wide zoom lens (35mm film equivalent), a fast F2.5 aperture and 10.01 Megapixel CCD sensor.
Billed as the successor to the popular Caplio GX8, the GX100 has inherited some of the features of the GR, including the fabulous two mode dial system which makes up what Professional Photography magazine recently described as the 'best control system of any compact camera' (once you get used to it, Canon and Nikon compacts seem clunky in comparison).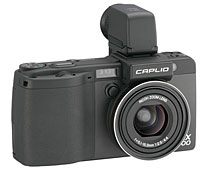 Another innovation that has set photo-nerd hearts a-fluttering in Chez Digi Lifestyles is the optional removable electronic viewfinder.
This clips on to the hotshoe (yes, it's got one of them too) and offers a high resolution LCD display including all the necessary exposure information. If they get the quality right, this will be as close as you can get to a real street shooter experience in a camera this size.
Architecture and landscape fans will also like the optional ultra-wide-angle 19mm lens for those big panoramic shots, with spot-on exposures guaranteed via a host of manual and scene modes and RAW file recording.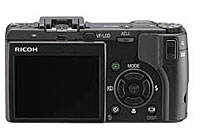 As with the GR, macro focussing goes all the way down to a frankly ridiculous 1 cm (any closer and you'll be burrowing into the subject), with a built in CCD shift method offering vibration reduction.
Ricoh claim that their 'Smooth Imaging Engine II' image-processing engine will keep the noise down, but with so many pixels packed onto such a small sensor, we expect the processor will be kept busy.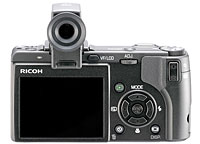 With the Ricoh Caplio GX100 measuring up at just 25mm, this looks to be a great carry everywhere camera, and with a claimed battery life of 380 exposures, this looks to be a very, very interesting camera.
European pricing hasn't been announced yet, but a Japanese site is quoting a retail price of 80,000 Yen (approx $670, 500 Euro, £340).
Specifications:

CCD Effective 10.01 million pixels (total 10.30 million pixels ), 1/1.75-inch primary-colour CCD
Lens Focal length f=5.1 to 15.3 mm (equivalent to 24 to 72 mm for 35 mm film cameras)
Aperture (F value): F 2.5 – F9.1 (Wide-angle) , F4.4 – F15.8 (Telephoto)
Lens structure 11 glass elements in 7 groups
Shutter speed 180, 120, 60, 30, 15, 8, 4, 2, 1 to 1/2000 sec. 1/30 – 1/2000 sec.
Picture modes F (Fine) / N (Normal) / RAW *2
Exposure adjustment TTL-CCD Metering Method: Multi Light Metering (256 segments),
Centre-weighted Light Metering, Spot Metering
White balanced Auto, Fixed (OUTDOORS, CLOUDY, INCAND., FLUORES., MANUAL) / White Balance Bracket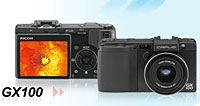 Memory SD Memory Card ( 32, 64, 128, 256, 512 MB, 1, 2 GB), SDHC Memory Card (4 GB),
Multi Media Card, Internal Memory (26 MB)
Recording modes Still image modes (Still Image, CONT., S-CONT, M-CONT), Program Shift, Aperture-Priority,
Manual Exposure modes, Scene modes (Portrait, Sports, Landscape, Nightscape,
Skew correction, Text, Zoom macro, High Sensitivity) , Movie mode, My setting 1&2
LCD 2.5-inch Transparent Amorphous Silicon TFT LCD (approx. 230,000 pixels)
Dimensions 111.6 mm (W) x 58.0 mm (H) x 25.0 mm (D) (excluding projections parts)
Weight Approx. 220 g (excluding batteries, Memory Card, strap), Accessories: approx. 30 g (battery, strap)
Battery Rechargeable battery (DB-60) x 1, optional AC adaptor (AC-4c), AAA battery (alkaline/oxyride/NiMH) x 2
Shooting capacity Conforms to CIPA standard: using the DB-60, approx. 380 pictures
(Using AAA alkaline batteries: approx. 35 pictures *4)