Palm has unveiled a new beta app for Palm Treo users letting them back up their data over the air to Palm's secure servers, without the need to connect to a desktop computer.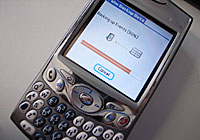 The Palm Backup Beta service can be downloaded from here and lets users back up data from the core handset applications; Contacts, Calendar, Memos, Tasks, Blazer (web browser) bookmarks, quick dials and the call log.
Once the app is downloaded on to the Treo (a 300k .prc file), users are prompted to open a new account with Palm, and select their resident country (only the US and Canada were listed as being currently available, so – sssscch! – we lied and still managed to set up an account with no problem).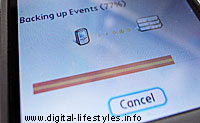 An activation letter is sent to your email account, but you can start the back up on your Treo straight away (but you must activate your Palm account within 7 days otherwise your account will be closed).
The first screen asks you how often you want to schedule your Treo back ups (daily/weekly/monthly or manual) and at what time of the day or night.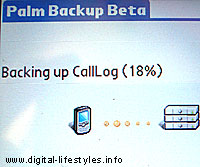 A back up of your data will then be saved to Palm's secure server as scheduled – so long as there is wireless data coverage available (if it fails to find a connection, it will try again at the next scheduled time).
Palm warns that if your Treo is stuffed full of data, the initial back up might take quite a while – something we discovered with the process taking something like 20 minutes over GPRS – but then we have over nine years worth of contacts, calendar and memo data filling up our much-used Treo 650. Subsequent backs up should be quicker.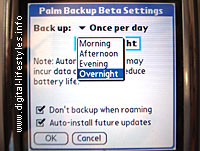 Note that with all that data flying about, you'll need a generous data allowance with your mobile service provider otherwise you might face hefty bandwidth bills.
With its obvious benefit to business users, this new backup service reflects Palm's determination to start clawing back sales from high flying competitors like Blackberry and Windows Mobile.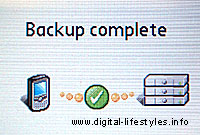 Palm Backup Beta service currently supports Palm Treo 700p, Treo 680 and Treo 650 and there's no news yet about release date or pricing.