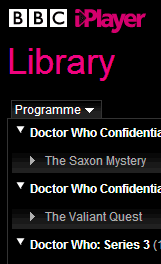 Finally the BBC Trust appears to be open to talking about the iPlayer going Open Source.
Good to see that the BBC Trust is to take representation from the Open Source Consortium (OSC) regarding their concerns about the fact that the BBC iPlayer is currently dependent on Microsoft's Windows DRM.
The OSC made an official complaint to the BBC Trust in January this year but did not hear back from them until now. Quite unlike Ofcom and the old DTI, who they did get replies from.

The OSC appears to have had to try and force the hand of the BBC Trust by threatening to take it to the European Commission.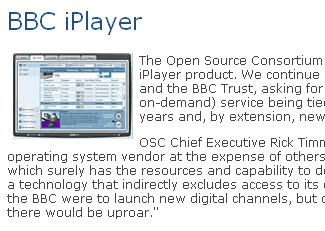 There's along history to this
There have long been voices of discontent about the BBC's seemingly blind approach to seriously considering any other video playback scheme apart from Microsoft's, meaning that it will only be able to play back on PCs running Windows.
After a 'fact finding' mission by Ashley Highfield, Director of New Media, and Mark Thompson, Director General, made to Microsoft, they signed a Memorandum of Understanding with them in September 2006. Many saw this as a disaster from Open Media.
It is planned that the iPlayer launch on 27 July, but if they need to make it open to all platforms – as it should be, given the BBC's commitment to make it available to all TV license payers – the launch date might be knocked back.