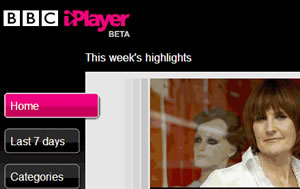 This morning, BBC boss Mark Thompson announced that the corporation's long-awaited iPlayer on-demand TV service would launch, as an open public beta, on 27 July this year.
Unveiling details of the peer-to-peer download service, Thompson predicted that the iPlayer (nee iMP) would be "at least as big a redefinition of broadcast TV as colour TV was 40 years ago."

Initially available as a standalone application for Windows PCs, the iPlayer allows users to download programmes from the previous seven days' transmissions across the full range of the BBC's terrestrial and digital channels. Once downloaded, TV programs expire either seven days after being first opened or in any case after 30 days.
If you want a quick recap on what the iPlayer can do, have a watch of the Real video
The iPlayer interface is primarily graphical, with the ability to search by day, genre or from an A-Z listing. According to Ashley Highfield, Director of Future Media & Technology at the BBC, programming will "include the whole schedule, including national and regional variations, although it will be mainly original, BBC commissioned programmes. Foreign acquisitions will come later and sports events are subject to individual contracts." There are no plans to make news or films available for download, and even some co-productions, such as current series Rome, won't be on the iPlayer.
The iPlayer will swallow up the current BBC Radio player and will be heavily cross-linked with the bbc.co.uk websites, and even external sites such as YouTube (where ad-supported BBC clips can already be seen) and Facebook. "Our strategy is that wherever you are on bbc.co.uk, you'll come across the iPlayer giving you something to enjoy," said Highfield.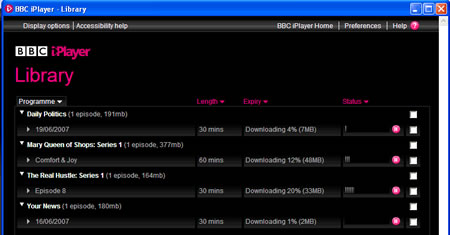 The iPlayer uses the Kontiki delivery software (like Channel 4's 4OD) and Window's Media DRM (as broken by DL in 2004). Highfield said that bit rate of programming is still 'being played with', but hinted that users with a 2Mbps connection should expect download times equal to the duration of the programme (a half hour show taking 30 minutes to download). To the end user, video quality will be 'better than VHS'. Anyone familiar with Betamax bit rates?
Highfield was also sanguine about the likelihood of piracy: "We take a mature approach. A few clips on YouTube is simply good marketing, and we're also likely to leave alone public service documentaries such as The Power of Nightmares. But if key programs being pirated and distributed, we will go after them."
Defending the BBC's decision to run with downloads rather than streamed content, Highfield said, "We didn't want viewers' first experiences with on-demand TV to be pixellated, poor quality streams. Also, with P2P, you can cap distribution costs in a way you can't with streamed content. Finally, ISPs are worried about rich media content. TV is quantum leap from radio and downloads can be managed better than streaming."
Despite that, streaming is on the cards for the Autumn, as is rolling out the iPlayer to digital TV customers, initially via Virgin Media's cable network. Priorities after that include iPlayer software for Mac, Vista and (eventually) mobile phone users. There have also been trials with push broadcasts to PVRs and with hybrid IPTV boxes such as BT Vision.
The BBC is aiming for 500,000 iPlayer downloads in the first six months, and to have 1 million registered users within a year. It is a localised UK service that won't be available outside the British Isles – possibly unlike the commercial iPlayer from BBC Worldwide, due for launch in 2008. This is also currently undergoing trials, and had its 20,000 public beta slots snapped up in just three hours.