Listen to the Interview – [audio:https://digital-lifestyles.info/media/audio/adrian-westaway-magic-light-RCA-2007.mp3]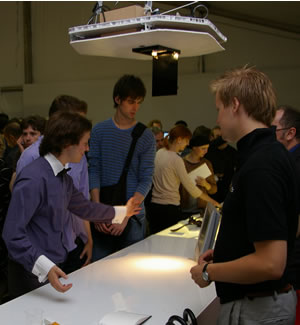 Adrian Westaway's project, Magic Light, lets you guide a light to a different location merely by waving your hands in the direction you want to move the light.
The lack of 'interface' means that there's no age restriction, as using it is as simple as moving your hand around.

Using a disco light mirror, a Web cam and some software to process it, we could see how this could be of great use by those without don't have their hands free to move a lamp – such as surgeons, or people with 'contaminated' hands.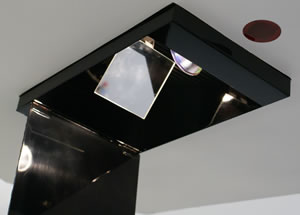 When developed with higher levels of control – widening the beam, etc – the potential of this product become significant.
Unsurprisingly, Adrian was pleased that the RCA chose to patent his design, something that happened to very few.
Here's a little video that we shot of Adrian demoing Magic Light.
… and a more comprehensive version by Adrian showing a number of different uses

Further details.
Adrian Westaway and his fantastically named, foldingbaguette site
Our video shot on a Panasonic HDC-SD1 – High Def, solid-state camcorder.
We're trying a new format with these RCA pieces. Rather than have text dominated reporting, we're going to have the audio and picture do the speaking. Let us know what you think of the new approach.