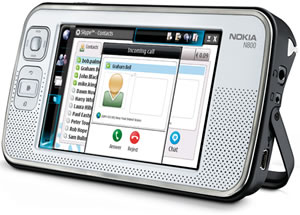 Nokia has officially announced that they have made Skype available to run on the Nokia N800 Internet Tablet.
It's been an un-secret since January this year when it appeared on the official Skype site.

Mobile phone manufacturers have been able to put IP voice calling on their handsets for a long time but have been stopped from doing so by the mobile phone companies, as they're terrified that you're not going to be giving them loads of money for mobile phone calls.
The only brave mobile company to allow this has been mould-breaker, Three, with their X-Series service (review), which runs on Nokia's N73 phone.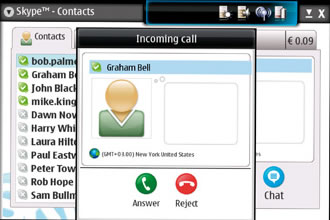 Skype on the N800
The N800 is about the only device that they can release Skype on, as it's not really a phone – so they won't offend the mobile carriers. Nokia bill it as an Internet Tablet.
Skype on the N800 is available with the latest upgrade of the OS, the 2007 edition and is downloadable now and uses WiFi to connect calls.
Along with Skype, there's also a Flash 9 player, letting you watch all of those Internet hosted videos
The N800 replaces the N770 that was first spoken about back in May 2005 and started shipping in November 2005.