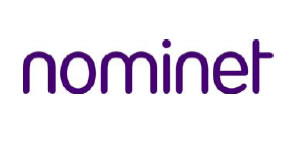 On Thu 5th July Nominet (the domain registry for .uk) held an open day for registrars (people who register domains). This was a chance for Nominet to explain what they do, and what services are available currently and what will be introduced in the future.

Nominet now holds over 6,000,000 domains which makes it the second largest country code top level domain (after Germany) in the world. There are on average 130,000 new registrations per month and 70% of all domains are renewed.
All UK domains are registered for at least 2 years and can then be renewed from 6 months before the renewal date (if the domain isn't renewed, it will expire).
There was quite a long explanation of the way Nominet's systems have changed and how registrars can utilise Nominet's tools to organise domains, etc, which we won't bore you with.
Services
Nominet run several publically available services, the main one being WHOIS. UN*X users will be familiar with this command (as it's generally included with a distro) and there are also Windows and other OS clients available as well as the services run on the Internet.
WHOIS gives out a lot of information about a domain (listed below)
Unfortunately people try to abuse the information from the Whois service to mine data, so Nominet takes measures to protect the data. Only 1000 lookups may take place per day and it's also restricted on lookups per minute. They also analyse lookup patterns to try and ensure that mining is made difficult.
Nominet also offer a WHOIS2 service (which is identical but runs on a different port) which allows for much higher lookup numbers and is for organisations to run whois services for other people (like a registrar allowing lookups for their customers). Someone who registers to access the WHOIS2 service is not allowed to use it themselves.
Other services are chargeable such as the DACS system (domain availability checker) which provides much less info than WHOIS lookups, but can be used for very high volume checks.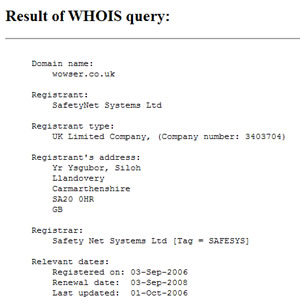 PRSS (public register search services) allows formatted searches to be performed (like search all domains with IBM in them), it's also chargable and is mainly used by organisations wishing to check intellectual property infringements and such like. Unlike the other services, this is limited by result, not search (so if 10,000 requests are made that return zero results, that's fine, but one search returning 10,000 results would mean no further searches could be made).
ENUM
If you don't know what ENUM is already, you will. ENUM is a service that puts telephone numbers in the DNS. It's going to be the future of telephony, with the growth of IP telephony. Nominet have won the Tier1 registry for the UK (which was announced at their AGM but it doesn't seem to have been made very public).
Though user ENUM will be important, ENUM will also be used for number porting on fixed networks.
Nominet are finalising details with the DTI and others and when everything's sorted presumably then there'll be a major announcement.
Domain details provided by Nominet
Domain name:
nominet.org.uk
Registrant:
Nominet UK
Trading as:
Live Account
Registrant type:
UK Limited Company, (Company number: 3203859)
Registrant's address:
Sandford Gate
Sandy Lane West
Oxford
Oxfordshire
OX4 6LB
GB
Registrar:
No registrar listed.
This domain is registered directly with Nominet.
Relevant dates:
Registered on: before Aug-1996
Last updated:
22-May-2007
Registration status:
No registration status listed.
Name servers:
nom-ns1.nominet.org.uk 213.248.199.16
nom-ns2.nominet.org.uk 195.66.240.250 2a01:40:1001:37::2
nom-ns3.nominet.org.uk 213.219.13.194