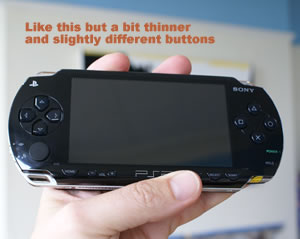 Sony made a big song and dance at E3 yesterday in showing the new version of the PSP.
Much press reaction is pretty unimpressed – which seems to be a increasingly reaction to Sony news these days. A shame for a company that five years plus ago could do no wrong.
The changes for the new PSP centre around the reduction in size and weight – and video output.

We're told that it's 33% lighter and 19% slimmer, while retaining the 4.3″ screen and UMD drive, despite the UDM failing to be taken up elsewhere.
When we first got our hands on the PSP when it was launched, our first thought was that it would do well with the then fashion for baggy-arsed jeans (still hanging around for some people), as it would help drag them down further.
Perhaps it being lighter and a bit slimmer isn't quite enough to fit into drainpipe trousers, but it will help.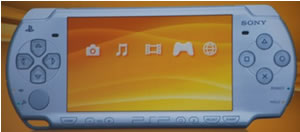 Other changes
The new video port will let you play your PSP games – and video you may have stored on there we assume – on TVs, although we'll have to wait until the September release to understand if the results will look pixelated.
Other bits include a claim of faster games loading from the UMD drive and better battery life.
Expected price in September is $199 with a bundled game and 1Gb memory stick. There's going to be some sort of a daft Star Wars special edition too. Release schedule is US first, with the dates for the rest of the world unannounced as yet.