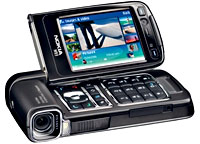 The dome-headed boffins at Nokia have triumphantly put their multiple pens back in their white coat pockets as the new Nokia N73 and N93 phones roll out on the product slipway.
Both phones come with large 2.4″ QVGA displays and high quality, Sony Ericsson-challenging 3 Megapixel cameras (2048 x 1536 pixels), armed with powerful flashes and Carl Zeiss lenses.
There's also a new Xpress Share client which is designed to make it easy for mobile snappers to blast off their masterpieces via MMS or email, or upload images to Flickr accounts.
Both phones are equipped with S60 3rd Edition operating systems, which comes with Nokia's new full web browser and a brand spanking new camera interface.
Nokia N73. Amazin' Raisin Aero Bar.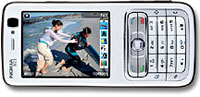 Being Brits, we refuse to describe mobiles as having a 'candybar' form factor, so how about we call the N73, 'Amazin' Raisin Bar' shaped?
Too obscure?
Well, we would say Mars Bar shaped, but then some of you with smutty minds might start giggling at the back, so we'll settle for 'Chunky Aero Bar' instead.
Now that that's settled, we can tell you that the Chunky Aero Bar-shaped N73 is designed to replace the popular N70 model and offers Quadband GSM/EDGE connectivity, with some models also including include 2100 MHz UMTS.
Unleashed from behind its spring-assisted cover, there's an auto-focus 3.2 megapixel camera boasting Carl Zeiss optics, with 42 MB built-in memory and a MiniSD slot for additional storage.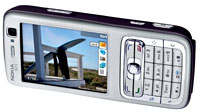 Rounding off the man-sized feature set is Bluetooth 2.0, a music player supporting MP3, AAC, AAC+ and WMA, video player with streaming support, FM radio with visual radio and a set of built-in pixie-sized 3D stereo speakers.
The Nokia N73 is expected be available from July 2006, in three colour schemes with silly names: silver grey/deep plum, frost white/metallic red and frost white/mocha brown.
Nokia N93. Like a lardy Curly Wurly. Sort of.
Sticking with our ill-thought out confectionary theme a while longer, we reckon that if the N73 is an Aero Bar, then the N93 must be like a bendy Curly Wurly with its flexible hingey thingy.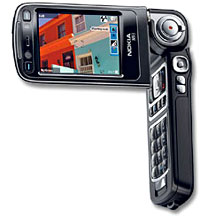 Modestly billed by Nokia as the "ultimate mobile device for spontaneous video recording," the N93 features a 3.2 megapixel camera with Carl Zeiss optics, "DVD-like" video capture at 30 frames per second, and 3x optical zoom with video stabilisation.
The feature set is mighty impressive, with the N93 offering 802.11b/g Wi-Fi, Bluetooth 2.0, MiniSD slot, video player with streaming support and TV-out.
The onboard music player can keep you rocking to MP3, AAC, AAC+ and WMA, and there's a FM radio with visual radio for some Terry Wogan on the move.
Sadly, those looking to see the famous wig wobbling about on TV will be disappointed to learn that the there's no DVB-H tuner onboard.
The Nokia N93 is expected to be available in July 2006.
Nokia waves around the wedge. Celebs flock for a slice.
Nokia have pushed the boat out on promoting these new phones, somehow persuading actor/director Gary Oldman to shoot a short film using the N93 as part of their "pioneering new mobile video initiative", the Nokia Nseries Studio.
Apparently, Oldman has become part of an "international cast of creative visionaries who are shooting mobile movies for the Nokia Nseries," with the results being posted up at www.nokia.com/nseries/studio
Come the summer, Nokia are going to open up the site so mere mortals craving to achieve 'creative visionary' status can slap up their own movies.